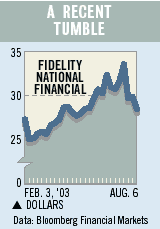 As the Street worries more about hikes in interest rates, investors are fleeing rate-sensitive stocks. One such: Fidelity National Financial (FNF ), No. 1 in U.S. title insurance, which tumbled from 34.86 a share on July 14 to 28 on Aug. 6. The stock could face more pressure, but some pros see this as a chance to buy: "When jitters over rates clear, Fidelity will leap to 60 in 12 months," says Don Gimbel of Carrett & Co., which has been buying. "The boom in title insurance will continue as rising rates are offset by other secular factors that buoy new mortgages," says Audrey Snell of research outfit Brean Murray, who rates Fidelity a strong buy.
In April, Fidelity started providing software and other services to mortgage outfits -- following its March purchase of an Alltel unit that provides such wares. Software should account for 50% of revenues, or $3.5 billion of an estimated total of $7 billion, by 2005, figures Gimbel. Title policies now account for 50%, and real-estate related services the rest. Snell raised her 2003 earnings estimate to $5.88 a share after Fidelity posted robust second-quarter results, which included software. For 2004, she expects lower earnings -- $4.25, on "curtailed" refi volume. But in 2005, she sees software-related revenues rising. Most software stocks trade at a 20 to 25 price-earnings ratio, while insurers sell in the single digits, notes Snell. Fidelity's p-e is 6.5, based on 2004 estimates. Gimbel sees 2005 earnings of $5 and says Fidelity deserves a 12 p-e, or 60 a share. Fidelity was featured in this column on May 6, 2002, when it was at 21.
Unless otherwise noted, neither the sources cited in Inside Wall Street nor their firms hold positions in the stocks under discussion. Similarly, they have no investment banking or other financial relationships with them.
By Gene G. Marcial
Before it's here, it's on the Bloomberg Terminal.
LEARN MORE