France: A Baby Step in the Right Direction
The French government is taking another step in reforming its economy. Amid heavy criticism, Finance Minister Francis Mer revamped a government-subsidized savings account called the Livret A.
As of Aug. 1, nearly 46 million Livret A accounts will earn interest at a rate of 2.25%, down from 3%. In the future, Livret A rates will be updated by the independent Bank of France based on inflation and short-term interest rates in order to depoliticize the rate-setting process. But the 4.25% rate for special low-income accounts, as well as the 15,000 euro ceiling per Livret A, will stay in place.
The moves should end a quirk in France's financial system that "made the economy less sensitive to monetary policy than those of its neighbors," says Eric Chaney, a senior economist at Morgan Stanley (MWD ). Lower rates make savings accounts less appealing and investments like houses or stocks more attractive. But as the European Central Bank cut rates over the past two years, tax-free savings accounts grew by more than 10%, to 257 billion euros, from the end of 2001 through May, says Chaney.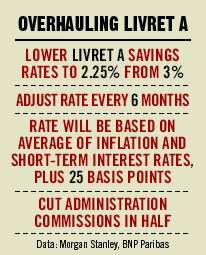 The reforms should have a positive, if small, influence on the economy. Some deposits will be withdrawn and spent. In addition, borrowing expenses for low-cost housing loans that use Livret A deposits will fall. That should spark additional investment in housing.
France's economy needs any help it can get. Consumer sentiment in July lingered at a weak -27. The number of unemployed rose by 11,000 in June. And economists have cut earlier growth expectations for 2003 by more than half, to less than 1%.
Reviving France's economy and reducing its large budget deficits will require more effort. Unfortunately, the center-right government may be losing its resolve. Plans to slash 30,000 civil service jobs turned into just 5,000 cuts. And on Aug. 5, the government said it would help bail out debt-laden engineering firm Alstom by buying a 30% stake in the company.
By James Mehring in New York with John Rossant in Paris
— With assistance by John Rossant
Before it's here, it's on the Bloomberg Terminal.
LEARN MORE