U.S. Economy: Is Corporate America Too Lean?
After three years of cutbacks, it may not be ready for stronger demand
For three years, Corporate America has been besieged by falling stock prices, scandals, investor distrust, war, and the unprecedented uncertainty hanging over it all. Its strategy: Cut everything to the bone and wait for better days. Now the onslaught is beginning to lift, but businesses may soon face a new problem. They could be underequipped to cope with a more vigorous economy.
And guess what? That's good for the outlook. After slashing capital budgets, capacity, inventories, and labor costs, many companies may well be too lean. Given the brightening prospects for a stronger second half, businesses may suddenly find themselves unable to meet demand. That might just provide the spark needed to rekindle executives' confidence in the future and trigger a new round of capital and payroll expansion, both of which are crucial to a true economic recovery.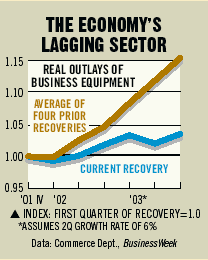 The need to lift output is already becoming evident, as are the pressures to boost stockpiles of goods and outlays for new equipment. Commodity prices are up to a three-year high, always a sure sign of stronger demand, and manufacturing output is up for two months in a row. Another good omen: New factory orders are coming in faster than shipments are going out. So the backlog of unfilled orders is finally rising, even as inventories are falling.
Since the bust began in 2000, businesses have aggressively reshaped their operations to be able to make money in a lackluster economy. And they have been successful. Profit margins are up and earnings in 2003 look surprisingly strong. As demand continues to accelerate in coming months, earnings will post even stronger results. However, in order for businesses to take full advantage of their new opportunities, output will have to expand in sync with sales, and that will mean expanding capacity as well.
THE RECOVERY BEGAN at the end of 2001, but business outlays for equipment have grown only 3.5%, compared with an average of 15.3% during the first year and a half of the previous four recessions, excluding the short-lived 1980 upturn (chart). As a result, efforts to cut capacity pushed outlays for new equipment and buildings down to only 10.3% of gross domestic product in the first quarter. That's an unusually low level this far into a recovery, and it is inconsistent with companies' long-term needs to boost productivity.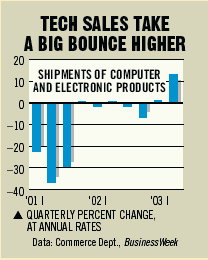 Manufacturers have led the way in mothballing facilities. Production capacity outside of tech equipment actually stopped growing in late 2001, after increasing 4% per year in the late 1990s. In June, 2003, capacity was no higher than it was two years ago. In high-tech industries -- including computers, peripherals, communications equipment, and semiconductors -- production capacity, which was growing 40% annually three years ago, is now increasing only 8% per year. Tech output is rising faster than that, meaning operating rates, while still very low, are starting to edge up for the first time in three years.
The slowdown in additions to the capital stock mean that existing business equipment and buildings are wearing out at a historically rapid pace compared with new capital spending. In 2002, the ratio of new outlays to depreciation among nonfinancial corporations was the lowest of any year since World War II. That low ratio also reflects the growing dominance of tech gear in the capital stock. Tech accounts for almost half of all new equipment outlays and has a shorter useful life than traditional machinery.
EVENTUALLY, COMPANIES will feel the need to replace their worn-out equipment. In fact, the switch from mothballing to modernizing may be starting. For the entire second quarter, shipments of capital goods, excluding the volatile aircraft sector, showed the largest quarterly advance in three years. Increased shipments of tech gear led the way, with a gain of 13% at an annual rate, also the fastest pace in three years (chart).
Plus, new orders for non-aircraft capital goods in May and June posted their first back-to-back increases in more than a year. Equipment orders are now outpacing shipments, meaning that unfilled orders for capital goods have increased for six months in a row. That's the first sustained rise since 2000. At the same time, inventories of capital goods continue to shrink. The mix of falling inventories and a rising order backlog is a sure ticket to faster production of capital goods. Those output pressures will only grow as overall demand picks up steam in the second half.
ALL THE NEWS on capital spending is not good, however: The outlook for new business construction, which accounts for about 20% of all capital outlays, remains bleak. But even here the news is better than it has been.
Inflation-adjusted outlays for the construction of industrial and commercial buildings in May stood 12.5% below their year-ago level, but outlays are now off their December low point and appear to be stabilizing. From early 2001 to December of last year, spending on new construction fell by a stunning 39.8%. The best that can be said about nonresidential construction is that going forward, it will not be as great a drag on economic growth as it was in 2001 and 2002.
Some of the worst weakness is in industrial building, which accounts for less than 10% of nonresidential building. Industrial construction has been tanking because of the long recession in manufacturing. Real spending in this sector stood at a record low $10.6 billion in May. That represents a collapse of 69.2% since 1999. Even during the severe recessions of 1973-75 and 1981-82, the declines in industrial construction were only 30.9% and 48.6%, respectively.
The latest data from the Federal Reserve show that 25.7% of industrial capacity is still idle, and vacancy rates for industrial buildings stood at a peak of 11.5% in the first quarter. Companies will move their new equipment into this empty floor space before they shell out for new building projects.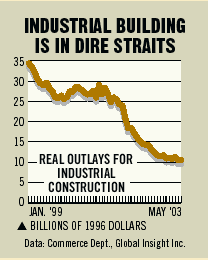 Commercial real estate is faring slightly better. The weakness here is centered in office construction. Vacancy rates are still rising, so it's no surprise that office construction is down 16.6% from a year ago. Spending on other commercial buildings, including retail space, has held steady since late 2002. And hotel construction is edging higher. Nevertheless, business construction will most likely be one of the last sectors to join the recovery.
New hiring will come back slowly, too. Yet, even though productivity gains have accounted for the bulk of economic growth so far in the recovery, businesses will not be able to meet an accelerated pace of demand solely with their existing workforces. At some point, payrolls will start to look too lean as well. And a solid pickup in job growth will be the last sign that businesses have shed their hunker-down mentality and are participating fully in a faster-paced recovery.
By James C. Cooper & Kathleen Madigan
Before it's here, it's on the Bloomberg Terminal.
LEARN MORE