Look, Ma, No Clubs
Disc golf is catching on. It's fun, fast, and free
Chris Mahon sweats his way toward the 13th hole of the golf course outside Worcester, Mass. "It's going to be tough," says Mahon, a 29-year-old trader for Fidelity Investments, as he scans the narrow fairway dotted with trees. He frowns, then reaches into his bag for his driver -- a bright red plastic disc.
What happened to the 1 wood? The game Mahon is playing is actually disc golf, where colorful plastic discs similar to Frisbees replace clubs and balls, bushel-size baskets strung up on poles replace the small hole in the ground, and some of the mostly male players sport ponytails and tie-dyed T-shirts instead of collars and wing tips. And unlike golf, admission to the 1,135 public and private disc-golf courses -- twice the number in 1997 -- across the U.S. is usually free. (Private courses are often on some player's land.) "There are no tee times, no greens fees," says Mike Snelson, co-owner of Gotta Go Gotta Throw, a wholesaler of disc golf gear in Minneapolis. "I can play nine holes and be back to work in 45 minutes."
Here's how the game works: Like traditional golf, disc courses typically have 9 or 18 holes. The holes run from about 200 feet to 500 feet and range from par 3s to par 5s, with par 3s being more typical. Scoring is the same, with birdies, pars, bogies, and worse. Players throw the disc, pick it up where it lands, and throw again -- usually using a different disc -- until they "putt" with a smaller disc into the basket. A good player can "drive" about 300 feet, beginners 200. Pros carry about a dozen discs of different sizes and rim depths for different throws. Some are designed for long, slow curves to the right or left, others for rapid curves.
Disc golf is more free-spirited than the traditional game, but it's not just for slackers and Jerry Garcia fans, either. Steve Hartwell, an IBM software programmer from Reading, Mass., plays regularly and has made it a family affair: He, his wife, and two kids often play and compete in tournaments. The buzz on the circuit is that Supreme Court Justice Sandra Day O'Connor plays and even bought gear for a resort she frequents in Wisconsin. Discraft, of Wixom, Mich., and Innova Disc Golf of Rancho Cucamonga, Calif., are the leading disc makers. Prices range from $6.99 to about $11.99.
The game's been around since the mid-1970s, but now is spreading out from its strongholds in the Midwest, Texas, and California. Between 5 million and 10 million people have played disc golf at least once, and about 500,000 play regularly, says the Professional Disc Golf Assn., the nonprofit governing body for the sport. The PDGA writes the rules, serves as an information clearinghouse for the sport, and sponsors tournaments. Total purses in 2002: more than $1 million. Course and tournament info can be found at pdga.com.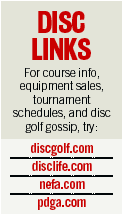 At a recent tournament near Worcester, Mahon explains his strategy as he steps up the tee for the 361-foot, par-4 hole: "I'm just trying to pitch around the trees on the way down, nice and tight." The "fairway" is a path through the woods.
A hush falls over the other members of his fivesome as Mahon winds up. The disc flies straight and low for more than 150 feet, avoiding all trees. "Sweet!" says one admiring golfer. Mahon parred the hole with his orange putter. Another player who gambled on his putt and ended up over a cliff finished the hole in eight strokes. Like golf, it can make you tear your hair out.
By Faith Arner
Before it's here, it's on the Bloomberg Terminal.
LEARN MORE