Italy: One-Time Fixes Won't Do the Trick
Berlusconi's new budget plan only postpones dealing with the large problems facing the country's economy
In July, the Italian government released its budget blueprint for the next four years. Once again, one-time sources of revenues are expected to keep budget deficits down.
Ahead of the wrangling in the fall over the 2004 budget, the government laid out its game plan. Prime Minister Silvio Berlusconi wants to lower next year's budget deficit to 1.8% of gross domestic product, from a forecast 2.4% this year (chart) and well under the euro zone's ceiling of 3% of GDP. A big chunk of the money is to come from one-time revenues like state asset sales, tax amnesty payments, and securitization of real estate sales. Without those revenues, Standard & Poor's calculates, next year's deficit would be 3.4% of GDP.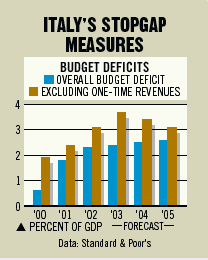 The government also lowered its economic growth forecast to 0.8% this year, and 2% in 2004. In addition, it warned that measures to contain the deficit could slow the economy further. The Italian economic think tank ISAE expects GDP will rise a smaller 0.6% in 2003 and 1.8% next year.
Right now, the economy seems stuck in neutral. Second-quarter GDP is expected to be flat, after shrinking 0.1% in the first three months. Business confidence in July fell to an 18-month low, with the three-month outlook on production and orders dropping. Industrial orders were already down 1.1% in May. Consumer confidence did inch up in July, but a weak economy still has consumers leery of buying big-ticket items such as houses and cars.
The biggest disappointment from the budget news, however, was the absence of pension reform plans. Current public-sector pension payments are near 15% of GDP, the highest among all euro zone countries. But Berlusconi is not pushing too hard. When he was Prime Minister in 1994, his proposed pension reforms helped bring down his government. Now, he faces opposition within his current coalition. With Italy's rapidly aging population, pension reforms are needed. Otherwise, reducing budget deficits will become increasingly more difficult.
By James Mehring in New York
Before it's here, it's on the Bloomberg Terminal.
LEARN MORE