General Maritime: Its Tanker Business Is Brisk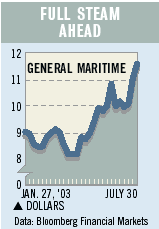 Some value investors are betting on General Maritime (GMR ). With a January purchase of 19 ships from Athens' Metrostar Management, it is No. 2 in midsize tankers. Its 46 vessels ply the Atlantic Basin, including the North Sea and Black Sea.
Maritime is in a "strong position" to capitalize on the dwindling tanker supply and a rise in U.S. oil imports as the economy perks up, says Gary Goldstein of Gilford Securities. Its stock has surged from 5 in October to 11.60 on July 30. But, he adds, it's still trading at only 3.8 times his 2004 earnings estimate of $3 per share -- and below book value of $14 a share. Goldstein's 18-month target: 19. Maritime posted record earnings in the first half. "We expect the full impact of the acquisitions in the third quarter," says CEO Peter Georgiopoulos.
He figures they would add 30% to 35% to earnings on a full-year basis. Magnus Fhyr of Jefferies raised his 2003 earnings estimate to $2.61 a share, and for 2004 to $2.90 (reflecting the 19 tankers' contribution), up from 9 cents in 2002. He rates the stock a buy. Jefferies co-managed Maritime's IPO in 2001.
Unless otherwise noted, neither the sources cited in Inside Wall Street nor their firms hold positions in the stocks under discussion. Similarly, they have no investment banking or other financial relationships with them.
By Gene G. Marcial
Before it's here, it's on the Bloomberg Terminal.
LEARN MORE