If you compare the way the economy looked at the end of the second quarter with how it looked at the beginning, you would never believe it was the same quarter. It's an economic makeover that is almost certain to improve the looks of the third quarter and set the recovery onto a faster growth track heading into 2004.
What's different now is the economy's momentum. This forward movement is captured in the pattern of the monthly data, since the figures for real gross domestic product are generally averages of the monthly numbers. Sometimes momentum is more important than the quarter's overall growth rate.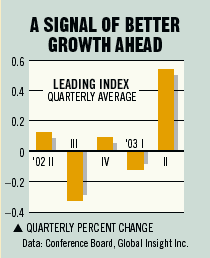 This is one of those times. Worries about the Iraq war caused households and businesses to freeze in March and April. That paralysis at the end of the first quarter and at the start of the second sealed last quarter's fate. As a result, second-quarter real GDP appears to have grown at an annual rate of about 1.8%. That's the uninspiring forecast ahead of the Commerce Dept.'s official tally on July 31.
However, the latest monthly data show a reversal in dynamics for the third quarter. For example, manufacturing output, down in March and April, has risen for two months in a row. Retail sales, which fell in April, increased strongly in June. Plus, surveys of manufacturing and retail activity in July point to further gains. This shift of momentum is especially evident in the index of leading indicators (chart).
Moreover, any third-quarter bounce in the economy will not be a one-shot deal. Growth should accelerate in the fourth quarter and into 2004 as long as the strong rise in demand finally puts an end to the skittishness of executives. A return to corporate risk-taking, in the form of inventory building, new capital spending, and hiring, will complete the virtuous cycle that kicks this recovery up a notch.
FOR THAT TO HAPPEN, companies will have to perceive any pickup in demand as durable and not just a flash in the pan. Executives will need plenty of convincing before they set aside all of the uncertainty that has hung so heavily over corporate board rooms for the past three years. And clearly, the supports under domestic demand augur well for a sustained advance in the second half.
Here's why. First and foremost, improving financial conditions, which are the grease for the recovery's gears, are the most supportive they have been in three years. The Federal Reserve's massive cuts in interest rates have taken both short-term and long-term borrowing costs down to levels not seen since the 1950s. As a result, corporate finance is returning to normal, investors are willing to take on more risk, and activity in the corporate bond and stock markets is picking up.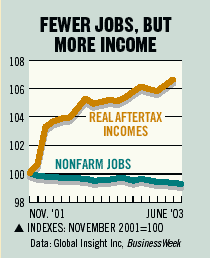 Corporate America is also reaping the benefits of past cost-cutting and improved efficiency. With 158 of the companies in the Standard & Poor's 500-stock index having reported second-quarter earnings, two-thirds have exceeded forecasts, the most in more than three years.
Moreover, analysts have stopped cutting their expectations for future earnings, according to researchers at Prudential Securities (PRU ). They note that Street analysts consistently slashed their earnings projections in almost every month since 2000. The same was true last year for 2003 projections, but over the past five months, the average 2003 forecast for S&P 500 operating earnings has stabilized at about $54 per share, and some analysts are now starting to raise their projections.
HOUSEHOLDS ARE ALSO BENEFITING from easier financial conditions. Thanks to low mortgage rates, extra cash is flowing from refis. And the broad Wilshire 5000 stock index jumped 16% during the second quarter, undoubtedly brightening the faces of a lot of workers when they opened up their 401(k) statements.
Also, tax cuts hit workers' paychecks in July. The boost to aftertax incomes for the third quarter alone is estimated to be some $35 billion, and Federal Reserve Chairman Alan Greenspan recently testified that the second-half lift to incomes will be "considerable" even after accounting for expected state and local tax offsets. The tax cuts will provide a strong bridge for consumer spending until job growth picks up (chart).
How do we know that? Because the two prior rounds of tax cuts in 2001 and 2002 have done just that. Since the recession ended, payroll jobs have fallen by 0.7%, but households' real aftertax income has risen 6.6%. That has allowed real consumer spending to increase 4.2%, while leaving room for the savings rate to rise from 0.9% to 3.5%. And the 2003 tax cuts are far larger than those in the previous two rounds.
ON BALANCE, THIS POWERFUL MIX of stimulants should keep demand growing. And sustained sales gains should prompt businesses, especially retailers, to start restocking supplies and merchandise (chart). Inventory rebuilding is another key component of a strong recovery. But so far, companies have been keeping inventories extremely thin. Excluding the ups and downs of inventories on car dealers' lots, the ratio of business stocks to sales has been at record lows for more than a year.
Thanks to technological and management innovation, businesses have reduced the amount of inventory they typically carry. But this year's average ratio of nonauto stocks to sales is well below the trend of the past decade. With inventories so low, the coming pickup in demand will have to be met with a rise in production. That might already be happening: Manufacturing output increased in May and June, the first back-to-back gains in a year.
Of course, a true and lasting recovery depends on capital spending. Businesses are still extremely hesitant to invest, but even here the outlook is the best it has been in many years. Stronger profits and more favorable financial conditions are a good framework.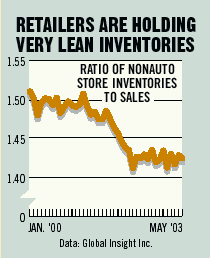 Companies also have concentrated on reducing excess production capacity. Indeed, among nonfinancial corporations, the ratio of depreciation to new capital spending last year was the highest in the post-World War II period. The rapid rate at which capital goods are wearing out suggests there may be increasing pent-up demand for equipment, which will be satisfied once businesses see demand for their products grow faster in the second half.
Of course, the U.S. economy has been here before. Real GDP has performed impressively for a quarter only to flame out in succeeding months, as growth was stunted by successive corporate scandals and war with Iraq. In fact, the National Bureau of Economic Research declared on July 17 the recession ended back in November, 2001, implying that the economy has been in an upturn for a year and eight months. But only now are the typical cyclical forces which spur demand and promote stronger growth starting to fall into place.
By James C. Cooper & Kathleen Madigan
Before it's here, it's on the Bloomberg Terminal.
LEARN MORE