Tall in the Saddle at Zions
A regional bank out West, Zions Bancorp (ZION ), has left most rivals in the dust. The stock, trading at 34 in October, 2002, took a leap, soaring to 54.53 by July 23. Part of the reason is solid earnings growth. Another: buyout chatter.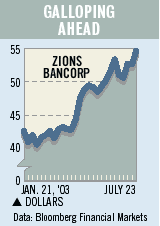 After Zions posted second-quarter earnings of $1.02 a share -- beating consensus estimates of 98 cents -- John Kline of Sandler O'Neil & Partners upped his 2003 estimate from $4 a share to $4.10 and his 2004 estimate from $4.40 to $4.45, vs. $3.67 in 2002. Also, Kline boosted his rating from "hold" to "buy" and his 12-month price target from 53 to 60 -- or 13 times his 2004 estimate, in line with its peers. Buyout talk also buoyed the stock: "Some foreign banks are eyeballing Zions," says a hedge-fund manager who asked not to be identified. They want to expand into the U.S. through acquisitions. This pro recalls Bank of America (BAC ) wanted to buy Zions two years ago, but talks fell apart. A Zions spokesman declined comment.
Unless otherwise noted, neither the sources cited in Inside Wall Street nor their firms hold positions in the stocks under discussion. Similarly, they have no investment banking or other financial relationships with them.
By Gene G. Marcial
Before it's here, it's on the Bloomberg Terminal.
LEARN MORE