Mexico: Hostage to Its Neighbor's Troubles
Weak demand in the U.S. is becoming a big problem for Mexico's manufacturing sector.
Total Mexican industrial production in May was down 2.3% from a year ago. Construction and mining posted solid gains, but factory output fell 3.5%. The factory weakness reflects a drop-off in exports. Total manufactured exports so far in the second quarter are down 4.7% from a year ago, and most of the decline is due to falling exports to the U.S., Mexico's largest trading partner.
Two key problems are hurting Mexico's sales across the border. First, the peso has been rising against the dollar. Although it has fallen a bit from its high set in February, the peso is still 7.5% stronger than it was a year ago.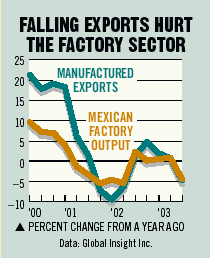 Second, Mexico's auto industry depends heavily on Detroit's Big Three, who have been losing U.S. market share. Research firm CreditSights Inc. says that in the second quarter of 2000, Mexico was exporting 125,000 vehicles per month, mostly to the U.S. and Canada. Now the monthly rate is down to 108,000, a drop of 14%.
Sagging exports are starting to fall back on the domestic economy. Retail sales edged up only 0.2% in the year ended in May. And banks are lending, but loan demand is weak despite historically low interest rates. That's because consumers and businesses are wary the economy will not rebound until the U.S. economy picks up significantly. Private analysts expect the Mexican economy will probably grow by 2% or less in 2003. Although that's better than the 0.9% gain in 2002, it will not be fast enough to keep the jobless rate from rising from June's official 3.2%.
Interest rates have been falling to levels more in line with U.S. rates, thanks in part to Mexico's continuing fiscal discipline. But any further government help will be delayed. Fiscal and labor reforms are all on the back burner until the newly elected lower house of Congress takes office in September. Expectations are that the U.S. economy will be stronger by then, allowing Mexico's export sector to boost economic growth and hiring plans.
By James C. Cooper & Kathleen Madigan
Before it's here, it's on the Bloomberg Terminal.
LEARN MORE