Ivax May Be Buyout Bait at Last
Ivax (IVX ), big in generic drugs, is no stranger to takeover buzz. But after years of fruitless waiting, most investors have given up the notion that Chairman and CEO Phil Frost, who owns 16% of the stock, will pull a deal. But that idea has sprouted up again. "Our sense is that Frost, now 66 years old, is ready to sell," says one hedge-fund manager, a major Ivax holder. With the stock at 17 -- down from its 2001 high of 41 -- it's takeover time again, he thinks. Joseph Zock, president of Capital Management Associates, who has owned shares since 2001, agrees. Zock partly bases his investment decisions on his close reading of the CEO. At a recent stockholders meeting, Frost seemed "distant," says Zock, and seemed less involved in Ivax' daily operations, very unlike the hands-on boss he used to be. After nearly 20 years at the helm, Frost could be ready to cash in, says Zock, who is in Ivax for its "robust drug pipeline" in branded and generic lines.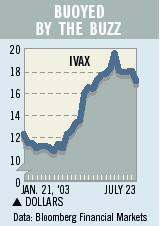 Harvey Eisen, chairman of Bedford Oaks Partners, also likes Ivax as a generic and takeover play. "I'm convinced that at one point, Phil will sell," he says. Based on his projected earnings of 70 cents a share in 2003, 90 cents in 2004, and $1.10 in 2005, he expects Ivax stock to leap to the low 20s in 2003. In a deal, Ivax could fetch up to 30, he says. Frost won't comment on rumors but says he'll do what's best for shareholders.
Unless otherwise noted, neither the sources cited in Inside Wall Street nor their firms hold positions in the stocks under discussion. Similarly, they have no investment banking or other financial relationships with them.
By Gene G. Marcial
Before it's here, it's on the Bloomberg Terminal.
LEARN MORE