Tiny Hollis-Eden Pharmaceuticals (HEPH ) is red-hot: Its shares zoomed from 3.39 last October to 16.97 on July 9, before easing to 16.09 on July 23. What's firing things up? Some pros are turned on by prospects of its "immune-regulating hormones" in treating immune-system disorders -- including radiation woes. Hollis-Eden has teamed up with the Armed Forces Radiobiology Research Institute to develop HE2100, which shields military personnel against nuclear radiation. Given before -- or up to two hours after -- exposure, HE2100 shows "surprising efficacy" in protecting the immune system, says Jon Hickman of Halpern Capital, by stimulating rapid production of infection-fighting cells called neutrophils.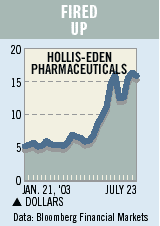 Hickman, who owns shares, expects Food & Drug Administration approval of HE2100 by the third quarter of 2004. Hollis-Eden will benefit, he notes, from a new FDA policy allowing a quick O.K. for drugs that help the Defense Dept. and Homeland Security in biological or nuclear attacks. Hollis-Eden is conducting human safety trials, plus tests on monkeys, which are expected to finish next year. Hickman calls the stock "extremely attractive" based on its modest market cap of $196 million and a price only nine times his 2004 earnings estimate of $1.60 a share on sales (mostly HE2100) of $100 million.
Anne Anderson, president of Atlantis Investment, which owns shares, says initial results of animal efficacy studies are favorable. She figures that if Defense finds HE2100 effective, Hollis-Eden may get an order in the range of $160 million. That, says Anderson, should hike the company's market value to $500 million, or 29 a share, by yearend 2004.
Unless otherwise noted, neither the sources cited in Inside Wall Street nor their firms hold positions in the stocks under discussion. Similarly, they have no investment banking or other financial relationships with them.
By Gene G. Marcial
Before it's here, it's on the Bloomberg Terminal.
LEARN MORE