A Legal Way to Keep Investors in the Dark
Just when you thought transparency in corporate financial reporting was improving, along comes this: More public companies are telling the Securities & Exchange Commission they will deregister, meaning they will stop submitting quarterly financial reports and other key disclosures.
Rules set by the SEC in 1965 let U.S. companies "go dark," as the move sometimes is called, when their shareholders of record fall below 300 (or 500, if assets total less than $10 million). Now, a group of nine institutional investors is complaining that increasing numbers of much bigger companies are thwarting the aim of the rules. On July 3, they petitioned the SEC to close what they call a loophole in its deregistration policy. It allows U.S. companies to count holders of record, which is usually far lower than actual shareholders since many investors have a broker keep stock for them. "These companies that had taken full advantage of the equity markets all of a sudden say: 'We're going to turn the lights out,"' Carr Securities President Walter Carucci told me.
A prime example is SmartDisk (SMDK ), a Fort Myers (Fla.) data-storage company that went public in 1999 at $13 a share. Soon, its stock soared to $67.50 before plunging in the tech rout. On Mar. 31, SmartDisk's last 10-K filing reported assets of $17 million and more than 6,000 stockholders. But on May 7, SmartDisk told the SEC it would deregister because it has only 278 holders of record. By deregistering, it could no longer trade on NASDAQ, and the stock that day fell to 6 cents a share from 35 cents. Lately, it traded over the counter at 10 cents.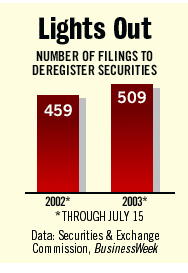 No one alleges that SmartDisk did anything illegal. "What we did was very legal, and beyond that, I feel it was ethically very sound," SmartDisk CEO Michael Battaglia told me. He said investors will benefit because SmartDisk will conserve assets as it escapes the costs of complying with regulations, particularly those imposed by last year's Sarbanes-Oxley Act. He added: "We never looked upon that rule as a loophole."
Owners of SmartDisk stock might weigh the trade-offs differently. Beyond suffering less liquidity in selling shares of a closely held company, investors may have a harder time keeping tabs on the business. For example, with registered stock, SmartDisk had to report in its Apr. 25 proxy statement all about a $305,114 loan it made to Battaglia in 1998. Last year, directors extended the loan's due date to 2005, lowered its interest rate, and eased other terms. At yearend, Battaglia still owed SmartDisk $277,000. Now, investors are not assured of learning such details.
How many SmartDisks are there? The SEC doesn't report companies going dark, never mind the smaller number of those with thousands of shareholders. A search of SEC archives for filings on Form 15, which is how companies deregister, found just 71 in 1994. By 2002, there were 854. The average over those nine years was 675. This year through July 15, there were 509 filings, up from 459 in the comparable 2002 period (chart). These totals, it's important to note, also include filings to deregister shares bought out in mergers, plus bonds and other redeemable securities.
If the data are imprecise, the trend seems clear. Besides SmartDisk, the institutional investors' petition lists 23 more recent Form 15 filers it deems questionable, including Albany (N.Y.) trucker United Road Services, with an estimated 6,100 holders. CEO Michael Wysocki said United Road was qualified to file Form 15, and its 294 holders of record is accurate.
The question for the SEC is if rules set 38 years ago still reflect today's markets. Egon Guttman, an American University law professor and expert in the field, thinks not. Bigger companies going dark this way, he said, violates the law's spirit. How many investors are too few for the law to protect? That's beyond me. But any outfit with thousands of shareholders strikes me as the definition of a public company.
Before it's here, it's on the Bloomberg Terminal.
LEARN MORE