U.S.: Greenspan's Number One Concern: Capital Spending
He says business skittishness is holding back the recovery
Federal Reserve Chairman Alan Greenspan always delivers his semiannual testimony on monetary policy in front of Congress and TV cameras. But his July 15 speech seemed geared to catch the ears of a specific audience: corporate executives, who are still sitting out this recovery. Greenspan's message: Everyone else is on board -- but businesses remain in the waiting area.
His consternation is understandable. Major sectors like consumers and housing are pulling their weight. The White House has engineered a massive tax cut, and most important, financial conditions are the most favorable in decades. And yet, as the chairman said, "there is little evidence that the more accommodative financial environment has materially improved the willingness of top executives to increase capital investment."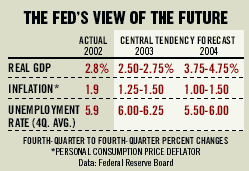 Greenspan seemed to suggest that progress in capital spending will be the Fed's No. 1 benchmark in judging its success at moving the economy into higher growth. But he recognized that business leaders remain "quite circumspect" about taking on new investment projects, reflecting still ample capacity, lingering doubts about future demand, and the intense focus by the public and regulators on corporate behavior.
The chairman sees a "pervasive sense of caution" among businesses despite improving financial conditions, profits, and the general outlook. That dark mood continues to weigh on the willingness of companies to make commitments to the future, whether it's buying a new machine, laying in more inventories, or recalling some laid-off workers. The bottom line: Until business sentiment brightens, this recovery will remain disappointingly sluggish.
CORPORATE AMERICA'S reluctance to spend is probably why the Fed sharply cut its growth forecast for 2003 from the projections it made back in February. The "central tendency" of the forecasts of the Fed's seven board members and the 12 district presidents puts growth this year in the range of 2.5% to 2.75%, down from 3.25% to 3.5%.
If second-quarter growth comes in at about 2%, as generally expected, then the Fed's forecast implies that growth will pick up to an annual rate of between 3.1% and 3.6% in the second half. That would be an improvement, but it would not likely spur much enthusiasm in corporate boardrooms. Executives want to see growth more in line with the 3.75% to 4.75% range that the Fed expects in 2004.
But a moderate pace of demand is not the only reason for weak capital spending. Executives remain skittish about corporate scandals ranging from Enron (ENRNQ ) Corp. to the more recent Freddie Mac (FRE ) accounting problems. The Fed chief said that executives and boards of directors seem "unclear, in the wake of recent intense focus on corporate behavior, about how an increase in risk-taking on their part would be viewed by shareholders and regulators."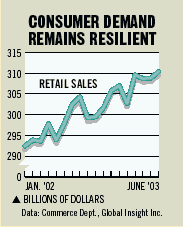 So instead of embarking on new capital projects, businesses are focusing instead on strengthening their balance sheets. And on that front, the Fed chief noted substantial progress: Reflecting the benefits of lower interest rates, the ratio of interest costs to net cash flow has fallen, and the average maturity of corporate liabilities has lengthened. Plus, the ratio of current assets to current liabilities has risen. These improvements have made investors willing to take on more risk, a key reason financial conditions are now more supportive.
Normally, cheaper capital on top of improving prospects for demand stemming from the recent tax cut would serve to increase capital spending. But Greenspan seems wary about whether this textbook mechanism will work the way it has in the past. He said spending patterns over the next few months "may provide an important test of the extent to which this traditional view of expansionary fiscal policy holds in the current environment." All this sounds as if the chairman is hoping for, but not betting on, a strong rebound in capital spending this year.
THAT CAUTION CONTRASTS SHARPLY to his upbeat read on consumers and housing. Indeed, in June, retail sales rose a healthy 0.5%. Store sales have been climbing, thanks in part to money freed up by mortgage refis, another offshoot of low rates. And spending will get a further lift now that the tax cuts and child-credit rebates are in place.
Greenspan pointed to a Joint Committee on Taxation estimate that consumers will see an extra $35 billion in the third quarter because of the tax changes. Stronger growth in demand should induce businesses to rebuild inventories. In May, inventories held by manufacturers, retailers, and wholesalers fell 0.2%, after holding steady in April.
A return to inventory accumulation will help the U.S. factory sector. Already, the industrial sector has stabilized, and a pickup in output growth would allow manufacturers to use more of their available capacity. That's another plus for capital spending, since businesses are unlikely to invest in new equipment until their existing facilities are all being used. In June, industrial production increased 0.1%. Factory output alone rose 0.4%, the second consecutive gain.
WHILE GREENSPAN NOTED that all domestic sectors outside of business were providing momentum to the economy, he did recognize that rising energy prices and "lethargic growth" in the rest of the world posed downside risks to the outlook.
The divergent trends in demand between the U.S. and the rest of the world is causing American imports to grow much faster than exports. As a result, a widening trade deficit remains a drag on the U.S. economy. In May, the gap increased again, to $41.8 billion, from $41.6 billion in April. Unless the June deficit narrowed appreciably, the net export sector subtracted from growth in the second quarter.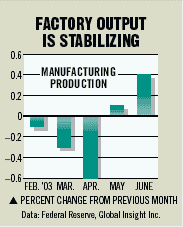 More worrisome is that the dollar's fall over the past year hasn't enabled U.S. manufacturers to gain a bigger toehold in foreign markets. Price-adjusted exports slipped 1.6% from a year ago, while real imports have shot up 6%. Those trends won't change much until other countries, most notably in the euro zone, begin to post better growth.
Until then, the U.S. appears to be the prime engine of growth for the global economy. That's why Greenspan drove home the idea that the Fed would keep monetary policy highly accommodative "for as long as it takes to achieve a return to satisfactory economic performance." The chairman spoke that phrase not once, but twice. He can only hope that the business sector got the message that this recovery depends on a shift in executives' mind-set. For economic growth to pick up, businesses need to start taking risks and begin spending again.
By James C. Cooper & Kathleen Madigan
Before it's here, it's on the Bloomberg Terminal.
LEARN MORE