KirchMedia: Opportunity Lost
With the auction a flop, creditors will run the business
The can't-miss deal. That's how the banks and bankruptcy specialists of two continents viewed the auction of Leo Kirch's insolvent television and film empire. The aging Kirch, one of Europe's great media impresarios, had lost control of his debt-flattened companies in early 2002. That left one of Germany's two main commercial-TV groups up for grabs, not to mention Europe's biggest film library. It was an opportunity that doesn't come along often, and the whole media world knew it. "How often do you get to buy 50% of the second-biggest TV market in the world?" Gunter Thielen, CEO of rival Bertelsmann, mused to reporters earlier this year.
Practically every big name in show business dispatched people to Munich after KirchMedia, the main vehicle for Kirch's holdings, declared insolvency in April, 2002. Italy's Prime Minister and media baron Silvio Berlusconi sent representatives from Mediaset, the company he controls. So did Hollywood studios such as Columbia and local media biggies such as Hamburg-based publisher Axel Springer. By some counts, there were more than 80 potential buyers.
When the sellers later invited those interested to examine KirchMedia's books at company headquarters in the Munich suburb of Ismaning, swarms of lawyers and accountants appeared. So many dealmakers were in Munich that on Friday afternoons, the business-class sections of flights to London were full. "Lufthansa and British Airways did a good business," jokes Florian Lahnstein, managing director at UBS Investment Bank, which was hired to supervise the sale.
What a waste. More than a year after the bankruptcy, Kirch's two biggest assets remain unsold and the uncertainty over their ownership is costing these companies. ProSiebenSat.1 Media, the Kirch family of TV stations that has 45% of the $8 billion German advertising market, lost $38 million in the first quarter on sales of $473 million. More worrying, analysts say the broadcaster, whose preferred shares trade publicly, may also be losing its knack for popular programming. Kirch's cash-starved film library has stopped buying new content, which it needs to maintain its appeal. The banks who lent money to Kirch, including Bayerische Landesbank, HVB Group, Commerzbank, and DZ Bank, as well as equity investors such as Lehman Brothers Inc. and Rupert Murdoch's News Corp., have recovered only a fraction of the estimated $11 billion they are now owed. "Everybody got screwed. Everybody," says a source close to one of the big losers.
There are many reasons the sell-off went wrong. First, Leo Kirch never saw a deal that he couldn't make more complex. The assets are governed by thousands of contracts that probably only the 76-year-old mogul understood. Second, the German advertising market slumped 25% in three years, making the Kirch holdings that much less attractive.
But even in good times, thriving in the German TV market is difficult. Government restrictions on advertising time cut into revenue, while well-financed public stations attract half the viewers. The Kirch auction exemplifies all the problems that have hurt Germany's standing in the world: sluggish growth, opaque business practices, and overregulation.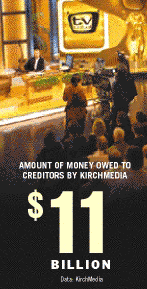 The prospects for improvement are uncertain at best. Kirch's creditors plan to continue running ProSieben and parent KirchMedia, hoping the value will rise after the German ad market recovers. But others in the industry doubt whether that plan will work. "It's not in the interests of the industry for banks to be running a TV business," says Antonella Mei-Pochtler, a senior partner in the Munich office of Boston Consulting Group who specializes in the media industry. "It won't develop in the right way."
On the contrary, assets such as the film library, with movies such as Fight Club, starring Brad Pitt, or the TV series Baywatch, could lose value as the content ages. Moreover, analysts see signs that ProSieben, which comprises three entertainment channels as well as all-news N24, is losing its edge. The flagship station ProSieben, which features blockbuster films in prime time, recently lost out to RTL Television in bidding for German broadcast rights to The Matrix and Lord of the Rings.
Potential buyers could see the risks. First, the pool of bidders fell to a half-dozen consortiums, such as a group including Mediaset and Lehman Brothers, which had invested in KirchMedia. Some buyers were disqualified by bankruptcy specialists Michael Jaffé, Hans-Joachim Ziems, and Wolfgang van Betteray, who ran KirchMedia on behalf of creditors. The creditors were determined to sell the stations and library as a package, fearing that the library would be worth drastically less if separated from its main customer.
But other buyers were daunted by the sheer complexity of the Kirch organization. It didn't help that according to some participants, the financial documents assembled by the sellers were poorly organized. During a summer heat wave, many documents were stored in a small, hot room in Ismaning, according to several who were there. "Put 20 lawyers together in a non-air-conditioned room, and pretty soon you start to flip out," says one person.
By November, 2002, the contenders had dwindled to just two. Neither had figured much in the early wagering: Heinrich Bauer Verlag, a Hamburg-based publisher known for downmarket women's, teen, and sex magazines; and Los-Angeles based Saban Capital Group Inc., whose founder, Haim Saban, made his name unleashing the Mighty Morphin Power Rangers on U.S. viewers.
Bauer was the early front-runner. His TV experience was limited to a minority stake in RTL II, a German station controlled by RTL Group. But his company was on a solid financial footing, and he was a known entity to the mostly German creditors. With the thoroughness for which he is famous, Bauer and his people pored over Kirch's books and formulated an offer that valued the library at $1.4 billion and the ProSieben stake at $690 million. The price seemed right, and Bauer's precise, straightforward way of doing business went over well with creditors.
Not so Saban. His Hollywood-style approach rubbed the conservative Germans the wrong way. Saban didn't spend nearly as long examining Kirch's books as Bauer had, participants say. Yet he beat Bauer's offer by 10% and promised to invest in the business. Bauer declined to start a bidding war and withdrew. Saban had won.
But within months, that deal went sour. The participants disagree on the reasons, but culture certainly played a role. Creditors complained that Saban was demanding too many changes as the parties hammered out the fine points. That may be normal negotiating practice in the U.S., but it angered the Germans. On May 31, Jaffé exercised an option to call off the deal. But Saban also had had enough. A spokeswoman declined to comment but referred to statements Saban made before a U.S. audience on July 14. "We just came to the conclusion that it was too risky," Saban said. In addition, the dollar's decline against the euro raised Saban's cost significantly.
If some new investor appeared with an attractive offer, Kirch's creditors probably wouldn't turn it down. But that is unlikely in the short term. So creditors have already begun reorganizing KirchMedia to make it more profitable. Contracts between ProSieben and the film library have been rewritten. Fees will be tied to advertising income, giving the broadcaster some protection during downturns. The 10-year deal also ensures the library a steady income.
In addition, the creditors plan to inject $345 million into ProSieben via a share offering early next year, giving the company fresh cash to invest in programming. And it's likely that voting rights will be extended to preferred shares, increasing the power of public shareholders. If the advertising market recovers, conceivably the value of Kirch's assets could rise. Already, ProSieben shares have gained 50% since the end of May.
But there's also a risk that things could keep going wrong. Amid the turmoil of the past year, ProSieben has become less innovative than its chief competitor RTL, say industry sources. The hit of the year was Germany's Looking for a Superstar, a talent contest/reality soap opera on RTL. ProSieben didn't respond until July with Star Search, a German version of the 1980s U.S. show. ProSieben's share of German TV viewers slipped to 21.5% in 2002 from 23.1% in 2001. While it recently registered some gains, analysts fear that the drawn out, highly publicized Kirch auction has rattled employees and hurt business.
Are Germany's banks succumbing to their old habit of postponing problems rather than confronting them? The banks deny that is the case. But certainly the Kirch collapse, the largest bankruptcy in German history, hasn't prompted the kind of soul-searching or reform that followed accounting scandals in the U.S. True, the Munich state attorney is investigating whether Leo Kirch improperly funneled money out of the country. An adviser to Kirch said he does not want to comment on the charges, but people close to him note that Kirch was known for reinvesting in the business rather than enriching himself.
If it had any effect, the Kirch debacle accelerated the demise of the old German way of doing business, in which a person with connections to top politicians and bankers could bypass financial safeguards. "This old system based on relationships won't appear again," says one banker. As for Leo Kirch himself, he is in a state of shock over the loss of his empire and almost completely blind as the result of diabetes, according to one person who recently saw him. Kirch's creditors hope his businesses prove healthier than their founder.
By Jack Ewing in Munich, with John Rossant in Paris
— With assistance by John Rossant
Before it's here, it's on the Bloomberg Terminal.
LEARN MORE