An impending spin-off is lighting a fire under the stock of tech wreck Three-Five Systems (TFS ). Once a high-flier that traded at 82 a share in mid-2000, Three-Five crashed to earth when the bubble burst, diving to 3.47 by Oct. 9, 2002.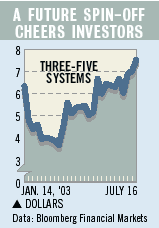 The stock has since more than doubled, to 7.35. Part of the reason: In August, Three-Five expects to spin off to shareholders its Brillian unit, which operates microdisplay systems that permit high-info, high-performance display in a small size. Its "liquid crystal-on-silicon" technology could fit all the info on a PC screen on a microdisplay no larger than a thumbnail. Some pros believe the spin-off increases Three-Five's value. (Each shareholder gets one share of Brillian for every four shares of Three-Five). The "pieces of Three-Five will be worth more than what the stock is now trading at," says Joseph Cornell, president of Spin-Off Advisors, which analyzes spin-offs and mergers. The spin-off frees Three-Five from funding Brillian which, he notes, would be a viable outfit on its own.
Three-Five will then focus on newly acquired assets. It makes liquid-display modules used in cell phones and wireless handsets for companies such as Motorola. An overcapacity in handsets hurt sales, pushing Three-Five to acquire new assets. Cornell figures that six months after the spin-off, the stock could be worth 10 to 15. Spin-Off analyst Lee Kaplan says Brillian could sell at 3 -- and then pop to 5 three months later. Kaplan sees Three-Five breaking even in 2003 on sales of $170 million.
Unless otherwise noted, neither the sources cited in Inside Wall Street nor their firms hold positions in the stocks under discussion. Similarly, they have no investment banking or other financial relationships with them.
By Gene G. Marcial
Before it's here, it's on the Bloomberg Terminal.
LEARN MORE