Britain: Will Lower Rates Give Manufacturing a Boost?
The Bank of England's quarter-point rate cut on July 10, to a 48-year low of 3.5%, was surprising on two accounts. First, analysts expected the BOE's Monetary Policy Committee to wait until August, when its key inflation report is due. Second, the meeting was the first headed by new BOE Governor Mervyn King, whose reputation as an inflation hawk has earned him the moniker "Unswervin' Mervyn."
The official vote tally of the nine-member MPC won't be known until July 23, but King appears to have voted with the majority, given that the committee's stated rationale for the cut mirrored newspaper comments made by King only days earlier. The rate reduction implies that King will bring more flexibility to policymaking than popular impressions had suggested.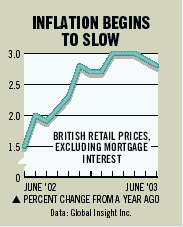 King, formerly the BOE's deputy governor, had expressed concern about weaker-than-expected growth and the recent upturn in the British pound, which could further harm exports and manufacturing output. British manufacturing suffered its worst year in a decade in 2002. It remains in recession, with output falling in May as exports to Europe sank to a four-year low.
Overall economic growth began 2003 at the slowest pace in 10 years. Now, consumer spending and housing, which had helped to offset the factory slump, are moderating and the private-sector job market is starting to soften.
With inflation already slowing, there was little reason for the MPC to wait until its next inflation report before acting. Retail inflation, excluding mortgage interest, dipped to 2.8% in June, down from 3% in April. That's slightly above the MPC's 2.5% target, but with the rise in housing prices now slowing, inflation is set to fall further.
British inflation measured by Europe's standardized index, the Harmonized Index of Consumer Prices, is running at only 1.1% in June, the lowest since September. The MPC plans to adopt an HICP-based target later this year, suggesting that the committee may have more room to cut rates again to assure a lasting recovery.
By James C. Cooper & Kathleen Madigan
Before it's here, it's on the Bloomberg Terminal.
LEARN MORE