Will Florida East Coast Share the Wealth?
In May, President Bush signed into law far friendlier tax treatment of dividends on stocks. In June, the number of companies raising their dividends jumped more than 31% above the average June level over the past decade, according to Standard & Poor's. Some companies couldn't even wait for the ink to dry. Florida East Coast Industries (FLA ) Industries, for instance, announced a 60% boost in its quarterly payout all of 17 minutes after the President put his name on the bill.
Perfectly understandable cause and effect? Yes. Yet in what could turn out to be another example of the power of bargain dividend tax rates, Florida East Coast may not stop there. Chances are strong that the St. Augustine railroad and real estate company soon will announce a special cash dividend. Such dividends -- occasional payments of cash to investors from unusually swollen corporate coffers -- are special precisely because they have proved to be so rare. With tax collectors ready to take more than 40 cents of every $1 paid to high-income stockholders, they just didn't add up. Now, with Uncle Sam's top rate on dividends down to 15%, it's a whole new calculus.
As it happens, Florida East Coast turns out to be an excellent example of how this new investment environment might benefit you. It is the 120-year-old descendant of Rockefeller crony Henry Flagler's railroad, which linked Jacksonville to Miami and, for a time, to Key West. Today, FEC still runs a 351-mile freight line, plus a sizable commercial real estate development unit. Obscuring much of this foundation, however, is the wreckage from FEC's disastrous expansion into the Information Age, which lofted and now suppresses its stock price (chart). Late in 2002, FEC dumped EPIK, a fiber-optic telecom-services wholesaler that in the past three years ran up total pretax losses of $447 million.
That smarts all the more because the core company has been clicking along nicely. On the strength of such new customers as Tropicana Products, which ships chilled orange juice from a Florida processing plant to distribution centers in Ohio and New Jersey, FEC expects profit from railroad operations of about $60 million this year, the same as last year and up from $49 million in 1999. With an operating margin of better than 25%, FEC is second in profitability among North American railroads, behind only Canadian National Railway (CNI ).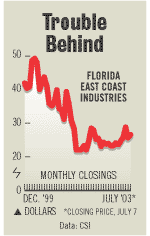 Less visible is the cash flowing from FEC's real estate unit, Flagler Development. It leases 61 commercial properties, the key ones in and around Miami, Orlando, and Jacksonville, from which it expects $41 million to $43 million in cash flow this year. That's up a bit from less than $40 million last year, thanks to improving occupancy rates. All told, Flagler owns some 6,100 acres in Florida but has 3,800 on the market or already under contract to be sold. For example, it expects to close this year on an $18 million deal for seven acres along the river that runs through downtown Miami. Similarly, last year it closed a $34.5 million deal for an old rail yard in Miami that had been listed among FEC's assets as worth just $300,000.
Proceeds from such deals, plus the nearly $75 million refund FEC collected in April from the Internal Revenue Service once it accounted for the EPIK losses, mean the company's treasury is brimming. On July 24, when FEC is set to report second-quarter results, it might also unveil its plan for all the cash it has accumulated. CEO Robert Anestis told me FEC expects $150 million in surplus cash this year and an additional $50 million next year. While some or all may ultimately be used instead to buy back FEC stock, it's a fair bet that at least a portion also will be paid to shareholders in a special dividend. "We are committed to [using] it one way or the other, or a combination of the two," he said.
It could be any amount, but suppose half were paid out in cash. That would be $100 million, or $2.73 a share, distributed over the next 18 months or so. With the stock lately near $27, and a 15% tax on dividends, that wouldn't be half-bad.
Before it's here, it's on the Bloomberg Terminal.
LEARN MORE