U.S.: The Jobless Recovery: Deja Vu All over Again
But unlike the early '90s, hiring now will take longer to turn around
The U.S. has been here before. Real gross domestic product has been growing for more than a year, but businesses aren't hiring. The economy followed this path after the 1990-91 recession. However, the current split between output and jobs is turning out to be more severe than the experience of a decade ago.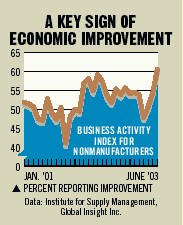 The June employment report made it clear that the labor markets are no longer treading water; by now they're drowning. Nonfarm payrolls shrank by 30,000 last month, on top of May's loss of 70,000, which had originally been put at a milder 17,000. The unemployment rate jumped to 6.4%, the highest rate in nine years.
Contrast that dire news to the better reports coming from other sectors of the economy. In June, service industries had their busiest month since September, 2000. Vehicle sales bounced back in June, as did other retail buying. In addition, tax cuts now showing up in paychecks along with money freed up by mortgage refinancings mean consumer demand can grow in the second half, even as payrolls remain under water.
The financial markets are also in a "better times ahead" mode. The Wilshire index of 5,000 stocks is up 27% since March, and bond yields have moved higher as traders see economic growth picking up and risks of deflation shrinking away.
All told, the second half is shaping up to be a time of improvement for profits, stock market prices, and the performance of output and demand. But it will be a lousy time for those seeking new jobs, at least until late into this year. How quickly job growth picks up in 2004 could determine the importance of the labor markets as a campaign issue in the Presidential election.
IF ALL THIS NEWS HAS a sense of déjà vu, it should. In the early 1990s, the recession ended in March, 1991, but businesses continued to cut jobs for months afterward. Nonfarm payrolls did not return to the pre-recession heights until the first quarter of 1993. If this business cycle were following the same trend, then payrolls should be expanding by now. They aren't -- a critical reason why the National Bureau of Economic Research hasn't declared an end to the recession that began in March, 2001.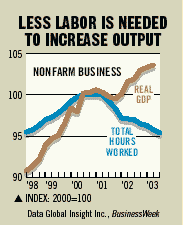 Today's job outlook is more onerous than the one of a decade ago. That's because businesses now are more intent on lifting output through productivity rather than with more labor. Since the fourth quarter of 2001, output has climbed steadily, while the total number of hours worked has fallen. In the second quarter, real GDP probably grew at an annual rate of about 2%, while hours worked dropped by a 1.6% pace. That implies all of the gain in output was accounted for by a productivity increase, probably in the range of 3% to 3.5%.
The primacy of productivity runs counter to the lack of business spending on productivity-boosting equipment in this recovery. But companies are finding ways to use their existing capital stock more efficiently. As Federal Reserve Chairman Alan Greenspan has said, "Adjusting to new technologies takes time." Workers move up the learning curve, and their output per hour improves, allowing for gains in both profits and wages.
The downside is that their employers have little need to hire. The economy has lost 421,000 jobs since June, 2002, on top of the 1.7 million lost in the preceding year. Factories alone have laid off 639,000 in the past year, including 56,000 in June. But other industries are also shedding workers. Last month, airlines cut 7,200 slots; retailers let go of 12,800; and the struggling telecom sector laid off another 6,900 jobs.
WORSE STILL, the leading indicators for hiring were a mixed bag in June. On the plus side, temporary jobs rose by 37,700. That's evidence businesses are at least tentatively adding employees. As companies grow more assured about prospects, these temp slots will become permanent jobs. Another positive: The number of workers who could only find part-time positions fell for the second month in a row. That suggests more companies need full-time employees.
Offsetting those improving trends, however, is the fact that the average nonfarm workweek was unchanged at 33.7 hours for the third month in a row. Typically, businesses extend the hours of existing employees before hiring new ones. In addition, weekly new claims for unemployment benefits at the end of June remained above 400,000 for the 20th week in a row. Claims above 400,000 suggest payrolls are still shrinking, and that the July employment report will not change minds about labor-market conditions.
The dreary employment data are butting heads with the generally upbeat news on the economy. Sales of cars and light trucks rebounded to a 16.3 million annual rate last month, from 16 million in May. Weekly store surveys suggest other retail sales increased in June and that July buying got off to a good start.
Another boost: The Institute for Supply Management's index on business activity at nonmanufacturing industries jumped six points, to 60.6%, in June. The ISM reported gains in new orders and backlogs, prices, and employment.
The small rise in the June ISM employment index, to 50.3%, is consistent with the creation of 9,000 private service jobs. Since services account for two-thirds of all payrolls, they will lead any hiring turnaround. But back in the late 1990s, when service jobs grew by 200,000 and 300,000 a month, the ISM employment index was running in a range between 53% and 54%.
THE RECENT SPATE of good economic news seems to have turned around perceptions, if not the reality, of job prospects. The jump in the June unemployment rate was triggered in part by a rise in people rejoining the labor force but who were unable to find work.
Keep in mind that in the fourth quarter of 2002, the labor force lost almost half a million people. That kept the unemployment rate at 5.9% even though layoffs mounted. By this spring, jobseekers began pounding the pavements again. In the second quarter, the labor pool rose by 1.3 million, the biggest quarterly gain in three years.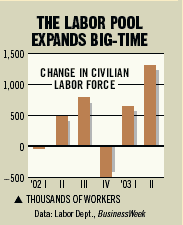 Much of the June increase in unemployment was the result of new entrants to the workforce, mostly graduates, and re-entrants, people who had given up looking but who started again with the hope that a strengthening economy would make jobs easier to find. Sadly, jobs aren't plentiful, and the days when employers offered signing bonuses and free massages to attract employees are long past.
Look for the Democrats to make the jobless recovery an issue in the next election, since it's one area where the Bush Administration looks vulnerable. Unless businesses take a surprising turn and start hiring at a significant pace, this economy's lack of job growth will remain a problem into 2004.
By James C. Cooper & Kathleen Madigan
Before it's here, it's on the Bloomberg Terminal.
LEARN MORE