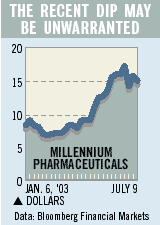 Jump into Millennium Pharmaceuticals (MLNM ) stock. That's the word from some Millennium trackers who think its recent fall -- from 17.20 in mid-June to 14 on July 1 -- was unwarranted. It is now at 15. Rumors had swirled that Millennium, which uses genetics, genomics, and screening technology to develop drugs, was takeover bait. So when Johnson & Johnson (JNJ ) a suspected suitor, announced on June 30 that it had agreed to market overseas Velcade -- Millennium's approved anticancer drug -- the Street felt let down. Some say J&J's terms were disappointing. Other pros disagree: "This is one of the best cancer deals in the history of biotech," argues John McCamant, editor of The Medical Technology Stock Letter, and "chances of J&J buying Millennium are enhanced." By retaining 100% of the U.S. rights, Millennium raised the ante, he says. The U.S. is 65% of the drug's worldwide market, and if Velcade is approved for other uses, for which Millennium is holding clinical trials, the company gets more attractive, says McCamant, who owns shares and sees the stock hitting 30 in a year. Millennium gets $15 million upfront from J&J, up to $520 million in payments as certain goals are reached, and $200 million in development costs. J&J and Millennium will work to maximize Velcade's potential. Chris Raymond of Robert W. Baird, who rates the stock a strong buy, sees Velcade sales of $3.5 million in the second quarter. Still in the red, Millennium will lose 98 cents a share in 2003 and 75 cents in 2004, he figures. When first featured here, on Nov. 18, 2002, Millennium was at 8.
Unless otherwise noted, neither the sources cited in Inside Wall Street nor their firms hold positions in the stocks under discussion. Similarly, they have no investment banking or other financial relationships with them.
By Gene G. Marcial
Before it's here, it's on the Bloomberg Terminal.
LEARN MORE