U.S.: The Skittish Bond Market Won't Shake Housing -- for Now
Rates must rise more than a point to hurt. But it's another story for refis
Over the past three years, the U.S. economy has been clobbered by unforeseen events, but housing continued to move up to set sales records in both 2001 and 2002. Once again, sales are on track to hit another peak in 2003. Now, though, housing faces its biggest challenge in this business cycle: rising mortgage rates.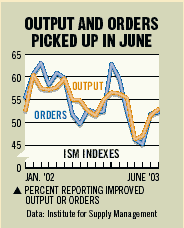 The Federal Reserve and the bond market are in a tussle over the fate of long-term interest rates. Since the spring, the Fed has highlighted the risks of deflation, or at least slowing inflation, in an attempt to talk down long rates. The bond market interpreted the central bank's focus as a signal the Fed would cut short-term rates at its June 24-25 meeting and would hold rates down for the foreseeable future. But traders were disappointed when the Fed cut its federal funds rate by only a quarter point, to 1%. Many investors took trading positions anticipating a half-point cut. When those positions unwound, bond prices fell and yields rose.
Rates are also edging up because the economic news has been improving. Consumers spent more in May, and purchasing managers said the factory sector is close to an upturn with orders and output increasing in June. The upbeat tone of the data suggests that the recovery entered a faster-paced phase, even before the Bush tax cuts funnel more money into people's wallets. Bond traders know that as spending picks up, any deflation risk will dissipate, so they are already demanding better yields on long-maturity bonds. The yield on the 10-year Treasury bond has risen from 3.11% in mid-June to 3.51% on June 30.
Eventually, mortgage rates will follow bond yields higher, but probably not enough to topple housing. Borrowing costs have fallen so low that even if mortgage rates rise by a full percentage point, home sales won't suffer all that much. What will take a hit is refinancing activity, which has been a major source of funds for consumer spending.
IN A TRADITIONAL ECONOMIC CYCLE, housing has been both a whipping boy and a savior. When the economy is peaking, higher rates choke off home buying, and housing leads the economy into a downturn. After a recession causes the Fed to be more accommodative, low rates unleash pent-up housing demand. Sales and construction take off like Ferraris, pulling the rest of the U.S. economy higher.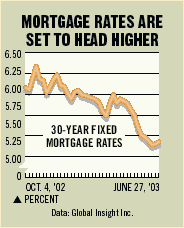 In this atypical cycle, however, the sector has acted more like the family sedan, moving steadily forward without much flash. Even in 2001, when the economy was in recession, both housing starts and sales managed to post small gains. The uptrends have continued into the recovery. In fact, residential construction, which is only about 4% of real gross domestic product, accounted for 7.5% of overall growth in 2002 and one-third of the advance in real GDP in the first quarter.
Housing's ascent has been a mirror image of the downward trend in long rates. The average 30-year fixed mortgage rate has declined from 8.5% in mid-2000 to 5.24% now. That translates to a huge saving of $325 a month for a $150,000 mortgage. Consequently, home buyers have had more room to bid up prices nationwide. Climbing home values have added to household wealth and consumers' sense of well-being.
SO WHAT HAPPENS when mortgage rates begin to rise? Fortunately, the drag may not be that great on home sales. Given the link between sales and rates over the past 13 years, BusinessWeek calculates that if mortgage rates edge back up to 6.25%, or by about one percentage point, by the end of the year, new home sales in December would be about 7% lower than their record pace of the first five months of this year; resales would drop by about 9%. But for the whole year, new sales and resales would post records.
Higher rates will have a bigger negative impact on the refi front. The Mortgage Bankers Association of America (MBA) is forecasting that mortgage rates won't get near 6% until mid-2004. By then, they expect the share of new mortgages to refinance existing ones will fall to 34%, from 68% in the second quarter when refi applications hit a record.
Refis have been generating extra cash for consumers. A Fed study shows 45% of homeowners take out some equity when they refinance. These cash-outs, which averaged nearly $27,000 in 2001 and early 2002, is usually used to repay debts, finance home-improvement projects, or purchase new goods or services. With rates edging back up, the refi window is closing for many homeowners, and consumers will lose a source of easy money.
The three-year drop in mortgage rates has also offset the stagnant job market's effect on mortgage delinquencies. The MBA reported that both the foreclosure rate and the delinquency rate were little changed in the first quarter from the fourth, and the delinquency rate is down from its previous-year level. Job losses and rising personal bankruptcies caused some homeowners to run into difficulties. But falling interest rates have allowed many others to refinance their mortgages, resulting in lower monthly payments.
TWO IMPORTANT TRENDS in housing -- rising homeownership and massive refi cash-outs -- have given rise to two seemingly conflicting truths about consumer finances. The amount of consumer wealth held in real estate is the highest ever. But consumers' equity stake in their homes is the lowest on record. The contradiction is caused by rising home prices and ultralow interest rates.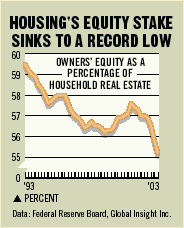 Rising real estate values have made homeowners richer. According to recent Fed data, owners' total net equity in real estate -- the home value less its mortgage -- climbed to a record $7.7 trillion in the first quarter, a $366 billion gain from the year before.
But at the same time, the surge in first-time homeowners, the waves of refinancings, and easy home-equity loans mean that on average homeowners hold less equity in their houses than at any time before. In the first quarter, the stake was 55.2%, down from 57% the year before and well below the 66%-to-68% range of the 1980s.
Given the skittishness in the bond market, could long rates jump by more than one percentage point? That scenario is possible, but since rising inflation is nowhere on the horizon, higher rates would be the result of the economy showing greater muscle in the second half than most analysts now expect. That would mean better job growth than is now projected and bigger pay raises for workers. Both would be pluses for housing demand and would offset any drag from higher rates.
To be sure, the housing sedan is downshifting. But nothing in the outlook for interest rates or economic growth suggests that the home-sweet-home sector will run completely out of gas in the next few quarters.
By James C. Cooper & Kathleen Madigan
Before it's here, it's on the Bloomberg Terminal.
LEARN MORE