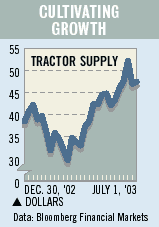 Tractor Supply (TSCO ) might sound dull, but this little-known farm-and-ranch outfitter is a winner on Wall Street. With 433 stores in 30 states, Tractor caters to part-time and hobby farmers, selling small tractors, animal and pet food, and garden tools. The company exploits niche markets where Wal-Mart and Home Depot (HD ) don't tread. As a result, sales and earnings have blossomed. And Tractor's stock has shot up from 30 in early March to 47.41 on July 1.
Has it peaked? Not quite, say fans. When Tractor hit 60 a year ago, the stock split 2-for-1. Now, some analysts predict another split: They see the stock hitting 60 again -- sometime in 2003. Tractor's "competitive landscape and unit growth prospects are among the most favorable" in specialty retail, says Jenny Hubbard of Avondale Partners. She says Tractor is undervalued: Among its peers, the average price-earnings ratio is 17. Tractor trades at 14.8 times Hubbard's 2004 estimate of $3.16 and 17 times her 2003 figure of $2.75. Tractor earned $1.92 a share in 2002. First-quarter sales surged 41%, to $273.8 million, and 2003 sales could total $1.3 billion to $1.4 billion, vs. 2002's $1.2 billion. Tractor is in a much earlier stage of growth than most other retailers, she notes, "and with a market cap approaching $1 billion [now $882 million], it will gain more institutional interest."
John Lawrence of Morgan Keegan, who rates the stock "outperform," says that by "simply listening to customer demands," Tractor keeps its inventory "fresh and relevant."
Unless otherwise noted, neither the sources cited in Inside Wall Street nor their firms hold positions in the stocks under discussion. Similarly, they have no investment banking or other financial relationships with them.
BY GENE G. MARCIAL
Before it's here, it's on the Bloomberg Terminal.
LEARN MORE