Smelling Sweeter at Inter Parfums?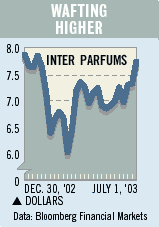 In August, a new Diane von Furstenberg brand will join Burberry, S.T. Dupont, and Christian Lacroix under the umbrella of Inter Parfums (IPAR ), which licenses and distributes fragrances and cosmetics. The goal, says Inter Parfums CEO Jean Madar, is to launch a Diane von Furstenberg Beauty line of scents and cosmetics, to widen the appeal of Inter Parfums, which is growing fast, in step with its mass-appeal products such as Aziza cosmetics and Intimate health and beauty aids.
Michael James, a partner at Kuekenhof Capital Management, which owns shares, says that with its "pristine" balance sheet -- no debt, a cash hoard of $40 million, or $2.10 a share, and fast-growing sales and earnings -- Inter Parfums is undervalued. The stock, now at 7.62 a share, is up from 6 in early March. James sees it doubling in 12 to 18 months. He figures the company will earn 60 cents a share in 2003 on sales of $154 million and 72 cents in 2004 on $170 million, vs. 2002's 47 cents on $130 million.
Money manager François Parenteau of Defiance Fund, which owns shares, says Inter Parfums' appeal is its earnings-growth predictability -- up 30% a year. It's a simple, low-cost, high profitability business that's easy to track, says Parenteau.
Unless otherwise noted, neither the sources cited in Inside Wall Street nor their firms hold positions in the stocks under discussion. Similarly, they have no investment banking or other financial relationships with them.
BY GENE G. MARCIAL
Before it's here, it's on the Bloomberg Terminal.
LEARN MORE