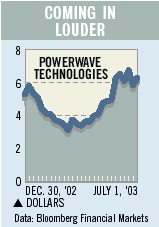 Phone users won't be the only ones to benefit from a government edict that will force wireless phone companies to let customers keep their phone numbers when they change providers: Powerwave Technologies (PWAV ) (PWAV) would also win. With Verizon deciding in late June to embrace the portability rule, which takes effect in November, the phone companies' opposition may soon unravel. Powerwave supplies radio-frequency power amplifiers to wireless networks.
"The great rush will be to provide better phone service to keep their customers," says David Rocker of Rocker Partners, which owns nearly 10% of Powerwave stock. A highflier in the heady days of 2000, when it traded at 70, the stock is now at 6.33. Cell-phone customers are likely to switch and take their numbers with them, he says, if they aren't satisfied with service. Powerwave's amplifier, used for a variety of frequency ranges and transmission systems, helps improve reception.
In May, Powerwave acquired assets from Ericsson Amplifier Technologies. In turn, it will supply amplifiers to Ericsson, which will use certain Powerwave products. Ken Muth of Robert W. Baird, who rates Powerwave a strong buy, expects a loss of 35 cents a share on sales of $226.5 million in 2003 and a loss of 7 cents on $257.9 million in 2004.
Unless otherwise noted, neither the sources cited in Inside Wall Street nor their firms hold positions in the stocks under discussion. Similarly, they have no investment banking or other financial relationships with them.
BY GENE G. MARCIAL
Before it's here, it's on the Bloomberg Terminal.
LEARN MORE