Argentina: Cold Water on Hot Money
Argentina is trying to stem the flow of hot money into the country. But the economy might get burned.
On June 25, Economy Minister Roberto Lavagna said the government will force foreign investors to keep their money in Argentine securities for at least 180 days. The action is partly a move against speculation in the stock market, which has more than doubled in value over the past year. Lavagna said short-term capital inflows, or hot money, hit $900 million in the past month compared with $550 million three months earlier.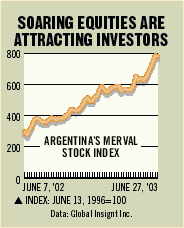 The capital restrictions are also designed to prevent a sudden drop in the peso, which has risen about 20% against the U.S. dollar this year. Officials want a controlled depreciation of the peso to lift exports. Argentina is coming off of a four-year recession, and foreign trade is seen as a growth engine. That's why the capital restrictions do not cover industries involved in trade.
But such exemptions are one reason analysts doubt the restrictions will work, and why Argentine stock and bond prices fell after the announcement. Also, there are questions as to how much of the recent inflow is money brought home by Argentinians who had invested elsewhere but now see improvement in their economy. Real gross domestic product grew 5.4% in the year ended in the first quarter. For all of 2003, the economy may grow 5%, after shrinking almost 11% last year.
So far, the moves have not exerted much downward pull on the peso, which traded at 2.7975 to the dollar at the end of June. President Nestor Kirchner has indicated he would like an exchange rate of 3 pesos to the dollar.
The International Monetary Fund is reviewing Argentina's plan, and the restrictions may play into the final details of an IMF credit program expected by September. Given Argentina's need for capital investments to give the nascent recovery momentum, a plan to keep money out of the financial system may not be a prudent move.
Before it's here, it's on the Bloomberg Terminal.
LEARN MORE