Despite the 17% rise in the shares of PNC Financial Services Group (PNC ) so far this year, the company is getting a blah reaction from major Wall Street analysts. None of them rates PNC a buy. PNC earnings have been under pressure, and most analysts have cut their 2003 and 2004 estimates. Yet Dave Williams, who runs U.S. Trust (SCH ) $2 billion Excelsior Value & Restructuring Fund, is buying -- partly because he thinks PNC is ripe for takeover. The bank holding company, operating in Delaware, Florida, New Jersey, Ohio, and Pennsylvania, has "very attractive franchises," says Williams, despite mediocre results. A merger or sale to a larger player, he argues, would let PNC turn around faster. With assets of $68 billion, PNC is big in corporate and regional banking (including brokerage and electronic banking), real estate finance, asset management, and global mutual funds. The market's recent rise helped lift PNC to 48, up from 42 in mid-February -- still way below its high of 75 two years ago. The stock trades at just twice its book value of $24 a share, notes Williams. Similar firms acquired lately fetched 2.5 to 3 times book. PNC deserves a 2.5 multiple, or $60 a share, says Williams. He thinks Bank of America (BAC ), Wachovia (WB ) and Citigroup are logical suitors.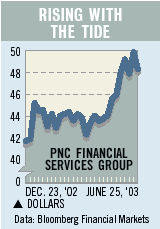 John Kline of Sandler O'Neill & Partners, who rates PNC a hold, agrees it's a good buyout bet, but he thinks PNC may want to wait until earnings turn around to get a better price. Kline has lowered his earning estimates by a nickel, to $3.80 a share in 2003 (in line with consensus), and $4.30 in 2004 (above consensus), respectively. CEO James Rohr has publicly stated that PNC plans to stay independent and pursue growth.
Unless otherwise noted, neither the sources cited in Inside Wall Street nor their firms hold positions in the stocks under discussion. Similarly, they have no investment banking or other financial relationships with them.
By Gene G. Marcial
Before it's here, it's on the Bloomberg Terminal.
LEARN MORE