OrthoLogic May Get Connected to Another Bone Outfit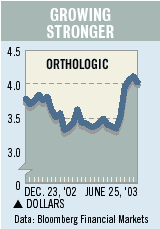 Orthopedics, a $14 billion industry, is chock-full of little-known investment nuggets, says Eric Miller, of Heartland Advisors, who is high on OrthoLogic (OLGC ), a pure play in products that stimulate bone growth. This market is expanding at 20% a year. There has been consolidation, with major orthopedic-products maker Zimmer Holdings (ZMH ) pursuing Switzerland's Centerpulse. Also trying to land Centerpulse is British orthopedics company Smith & Nephew (SNN ), which made its offer on Mar. 20--before Zimmer made its bid.
OrthoLogic is also a buyout candidate, says Miller, because of its rapid revenue growth. OrthoLogic, says Miller, could attract orthopedics outfits that don't have bone-growth-stimulation products -- such as Johnson & Johnson's DePuy (JNJ ) (OrthoLogic's current marketing partner), Stryker (SYK ), or Zimmer. He sees OrthoLogic sales growing 15% to 18% in 2003. In 2002, sales hit $40 million. OrthoLogic has yet to make money, as it's funding trials for other products -- such as potential blockbuster Chrysalin.
Now in Phase 3 trials, Chrysalin is an injectable drug that speeds the knitting of broken bones. Chrysalin would be a big product for any buyer, adds Miller, who figures OrthoLogic, now trading at 4, is worth 10. Analyst Justin Cable of investment firm B. Riley, who rates the stock a buy, says the upside potential of Chrysalin, expected to hit the market in 2005, is "significant." Cable owns shares.
Unless otherwise noted, neither the sources cited in Inside Wall Street nor their firms hold positions in the stocks under discussion. Similarly, they have no investment banking or other financial relationships with them.
By Gene G. Marcial
Before it's here, it's on the Bloomberg Terminal.
LEARN MORE