Brazil: The Heat Is On Lula to Spur Growth
Brazilians are beginning to wonder when they will benefit from the economic growth promised by President Luiz Inácio Lula da Silva during last year's election campaign. Six months after Lula took office, economists say Brazil will grow less than 2% this year for the third year in a row.
Rising impatience over tepid growth may have played a role in the central bank's half-point cut in interest rates on June 18, to 26%. It was the first cut in almost a year, even though yearly inflation, running at a seven-year high of 17.2% in May, is double the central bank's 8.5% target for 2003. The move came after sustained political pressure from, among others, Lula's Vice-President, businessman José Alencar. The powerful São Paulo federation of industries threatened job cuts if rates didn't fall.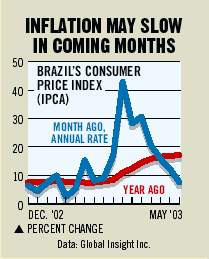 At stake is the credibility of the central bank, which up to now has shown caution in its battle against inflation. Prices soared last year after the currency's sharp depreciation, partly reflecting concerns over how the leftist Lula would manage the economy. Although inflation has slowed in recent months, the 8.5% target will be difficult. Prices for energy and telephone service are due to rise in June and July.
Meanwhile, the economy is stuck in the mire. April industrial production plunged 4.2% from a year ago, the weakest showing since the 2001 energy crisis. The latest rate cut will do little to help consumers and businesses, some of whom must borrow at annual rates of 100% or more, and real interest rates -- the market rate minus inflation -- remain high.
Without further rate cuts, opposition to Lula's government will grow. Recent weeks have seen discontent and demonstrations by public sector workers, unhappy with proposed cuts to pension benefits. So far, Lula's approval rating remains at about 70%. He has shown commitment to reforms needed to boost the economy and investor confidence. Maintaining a credible monetary policy will be crucial to achieving those goals.
By James C. Cooper & Kathleen Madigan
By Jonathan Wheatley in São Paulo
Before it's here, it's on the Bloomberg Terminal.
LEARN MORE