Anadarko Isn't Cooking with Gas
With even Alan Greenspan wringing his hands recently on Capitol Hill over rising natural gas prices, you would expect shares of the nation's leading energy producers to be climbing, too. And they are. This year through late June, the 20 biggest oil and gas stocks returned an average of 25%. Each of them was up, every single one, except No.13, Anadarko (APC ) Petroleum. With more rigs drilling for gas in the U.S. than any other company, Anadarko shares somehow lost 4%. Opportunity?
That's what I wondered as the stock kept running sideways in the mid-40s, far below a peak of nearly $76 back in late 2000. It remains stuck despite what might have been a catalyst for optimism. In March, CEO John Seitz quit, and Chairman Robert Allison Jr., who led Anadarko during a growth stretch from 1986 through 2001, replaced him. "The board was very upset with our stock price," Allison told Wall Street analysts during an Apr. 25 conference call. "A lot of pressure was put on John, and he resigned."
At 64 and the owner of 528,512 shares worth $24 million, plus options on 2.2 million more, Allison has plenty of motivation to please fellow investors. Allison's age, his hospitalization last December for heart trouble, and Anadarko's discount stock price have some investors also speculating the company will be bought out by one of the megaproducers aiming to expand their gas reserves. Could be. Yet after looking at the company a little more closely, Anadarko strikes me as a long shot to avoid.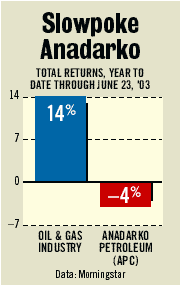 Widespread expectations of persistently high natural gas prices present an excellent opportunity for North American producers. The challenge is not just finding more gas, but finding it cheaply. That's where Anadarko has run into trouble. Last year, its cost of finding new oil and gas jumped 23%, to $10.52 per barrel of oil equivalent, or BOE (a way of measuring crude oil and gas together). Allison knows that's far higher than Anadarko's leading rivals, such as Apache (APA ) ($7.04 per BOE last year). Big outlays in any given year may take several more years to pay off -- temporarily inflating annual finding costs. Just the same, talking with analysts in April, Allison set a target of $7 to $7.50 per BOE.
This might be more reassuring if Allison had not been so intimately engaged in overseeing Anadarko's switch from one of the most efficient developers of energy reserves to one of the least. Before Allison left his post as CEO, Anadarko's finding costs had jumped to $8.53 per BOE in 2001, from $3.13 in 1998. Then, after Seitz became CEO in January, 2002, it's not as if Allison went fishing. By July, he formed a new panel called the CEO Advisory Committee to "provide advice, guidance, and feedback" to Seitz.
Now, with Seitz gone after just 14 months on the job (neither he nor Allison responded to my requests for comment on the advisory committee), Anadarko keeps disappointing investors. In June, it said worldwide output this year was set to slump 5% below the 200 million BOE forecast in April. It hopes to make back a bit of that shortfall via new fields it just bought from Amerada Hess (AHC ) for $225 million. Will that prove a good price? It's too early to know. But Anadarko already is retreating from Allison's $7 to $7.50 per BOE finding cost target. It now thinks $8 this year "is very achievable," a spokeswoman told me. Anadarko also has retracted its 2004 production forecast of 225 million BOE. So draw a giant question mark over next year.
Investors might be patient if Anadarko had a record of creating cash. For example, Apache over the past three years generated nearly $1.3 billion in free cash flow (that's cash from operations minus capital spending). In the same period, Anadarko ate $359 million. Over the past 10 years, Anadarko consumed $2 billion more in cash than it produced from operations. As Standard & Poor's energy analyst Tina Vital told me, "these problems are going to take a while to iron out." Anadarko looks like one of those market anomalies that the market has gotten just about right.
Before it's here, it's on the Bloomberg Terminal.
LEARN MORE