U.S.: Spring Is Flowering into a Stronger Second Half
With war worries over, the economy is showing signs of strength
If you're looking for a post-Iraq rebound, don't expect to see it in the top-line number for second-quarter economic growth when the Commerce Dept. reports the results on July 31. Real gross domestic product seems unlikely to be growing much faster than the first quarter's 1.9% pace. But that's no reason to conclude that the economy remains stuck in the mud.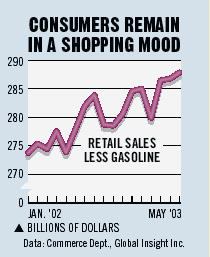 That's because the monthly reports for May tell a generally consistent story of economic improvement. May is the first month of relatively "clean" economic data, free of war-related distortions. Measures of actual production, demand, and flows of goods and services through the economy, including retail sales, factory output, and housing starts, almost uniformly showed improvement in May. And early-bird readings for June in retailing, homebuilding, and manufacturing look promising as well.
Real GDP in the second quarter will look sluggish, partly because overall activity got off to such a shaky start as war worries weighed on businesses and consumers. Quarterly GDP numbers are generally averages of monthly levels. That means weakness at the end of the previous quarter and at the beginning of the current quarter dragged down the current quarter's average, making it difficult to show much improvement.
Luckily, this momentum effect reverses when activity ends the quarter on a high note. If the May pattern continues into June, then the economy will emerge from the second quarter a lot stronger than it began. That means this quarter will act as a bridge to better GDP growth in the third quarter and beyond. Indeed, almost all the economists surveyed by BusinessWeek are looking for a second-half pickup.
AFTER A WAR-RELATED PAUSE, households are spending again at a healthy clip. That much was clear from the May retail sales data. Overall, sales rose only 0.1% from April, when they dropped 0.3% from March. However, the April and May totals were dragged down by steep declines in sales at gasoline stations of 5.4% and 4.3%, respectively. Excluding gasoline, retail sales increased 0.1% in April and 0.4% in May (chart).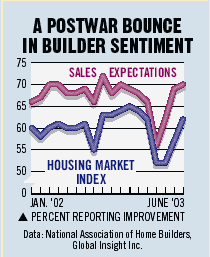 The May sales gains were broad: Receipts in the furniture, electronics, clothing, and general merchandise categories all posted strong increases. One weekly survey of retail buying in early June suggests further growth. Real consumer spending in the second quarter is on track to rise at an annual rate of between 2% and 3%. And in July, households will begin to see the extra cash from reduced tax withholding as the first impact of the new tax package begins to hit.
The spring building season is also off to a good start, and why wouldn't it be with mortgage rates at 45-year lows? Housing starts, which had stumbled 6.3% in April, recovered nearly all of their April loss, jumping 6.1% in May.
And in June, homebuilders were the most upbeat about market conditions since the months before the war, based on the latest survey by the National Association of Home Builders (chart). Their assessments of sales, expectations of future sales, and buyer traffic through model homes all picked up sharply in May and June, indicating solid demand.
NOWHERE WAS THE ECONOMIC EFFECT of war as onerous as on the factory floor. Because businesses throughout the economy held off on placing orders or building up inventories, manufacturers were forced to cut production schedules and lay off workers at a greater rate than previously. For instance, in March and April, factory payrolls fell by an average of 69,000 jobs, compared with a 51,833 monthly average in the preceding half year.
Layoffs continued in May, but production began to edge up. After falling 0.2% in March and 0.7% in April, manufacturing output edged up by 0.2% last month. Preliminary readings of regional manufacturing activity suggest the gain should extend into June.
The most important news from the output data was that tech equipment makers continued their recovery. In fact, the 0.8% advance in May pushed tech output above its previous high set during the boom year of 2000. The steady rise came even though the telecommunications sector remains in a slump. And it suggests businesses are gradually buying equipment, even if it's only to replace their worn-out machinery (chart).
Factory activity should also benefit from the re-emergence of inventory building. One factor contributing to the last recession was the unprecedented drawdown in stockpiles. Even over the past year, companies have remained cautious about piling up merchandise. As a result, the ratio of business inventories to sales in May stood well below its 2001 average. But as demand picks up, companies will be more willing to add to their stocks, and that's a plus for future factory output.
U.S. goods producers might also see some pickup in exports, but it won't be enough to offset the surge in imports. Simply put, the dollar value of U.S. imports is 50% higher than that of exports, so exports must grow 1 1/2 times faster than imports do just to keep the trade deficit hovering around its massive April level of $42 billion. The April gap is much greater than the first quarter's $40.5-billion average, suggesting that trade could be a sizable drag on second-quarter economic growth. Even so, the weakening of the dollar, along with moves by the European Central Bank to focus on pumping up economic growth in the euro zone, augers well for the U.S. exports outlook.
ORDINARILY, BETTER NEWS on the economy might cause the Federal Reserve to hold their fire on any new rate-cutting, but that may not be the case this time. The credit markets have priced securities to reflect an expected cut in the Fed's federal funds rate at the central bank's June 24-25 policy meeting. Now that the Fed has said that it is focusing separately on economic growth and inflation, the policymakers may decide to take out some deflation insurance in the form of another rate cut. Excluding the ups and downs in energy and food prices, yearly core inflation has fallen from 2.5% a year ago to 1.6% in May.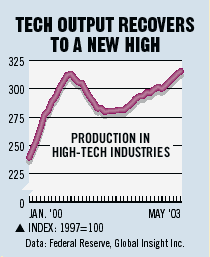 However, core prices in May rose 0.3% from April, relieving some concern that the zero readings for March and April might turn negative. So far, the indexes continue to signal only a lower rate of inflation, not deflation. Indeed, some onetime factors that had pushed prices down, such as auto rebates and other financing offers, and a war-related drop in hotel room rates, reversed course in May. A faster pace in demand in the second half would ensure deflation worries will disappear by yearend.
Yearend, of course, is still six months away. But when the books are closed on 2003, the data may well show that, with the war over, this economy shifted into a higher gear during the weeks of May and June, even though the GDP number may not show it.
By James C. Cooper & Kathleen Madigan
Before it's here, it's on the Bloomberg Terminal.
LEARN MORE