Ketchup king H.J. Heinz (HNZ ) has all the appeal of a squashed tomato. Even though its products are known worldwide, the company has posted lackluster sales and earnings for four years. And its shares, which hit 60 in 1999, now go for 34. With just 2% sales growth expected in 2004, and "with earnings constrained by higher pension and marketing outlays, we don't see attractive growth," says Christopher Growe of A.G. Edwards (AGE ) Terry Bivens of Bear Stearns (BSC ) says he'll "remain on the sidelines until earnings momentum becomes visible."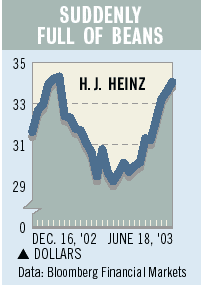 But to some pros, Heinz is appetizing takeover bait. "All that negative talk is exactly what a Nestlé wants to hear," says a hedge-fund manager, who bought Heinz shares in the belief that Nestlé was salivating. One analyst who runs his own research firm is set to recommend Heinz on takeover expectations. He figures the stock is worth 50 in a buyout. Heinz could regain its growth status under aggressive management, says this pro. Nestlé was foiled in its bid for Hershey Foods (HSY ) in 2002 and is now buying Dreyer's Grand Ice Cream (DRYR ). In September, 1999, Heinz, whose food products include pickles and frozen dinners, acquired a 19.5% interest in Hain Celestial Group (HAIN ), No. 1 in natural and organic foods. In December, 2002, Heinz spun off its pet food, tuna, and baby foods and merged them with Del Monte Foods (DLM ) That netted $1.2 billion, which was used to cut debt, to $3.5 billion. Heinz pays a dividend yield of 3.2%. Bear Stearns's Bivens retained his earnings estimate of $2.15 a share for fiscal 2004 (ending Apr. 30), vs. $2.03 in 2003. Heinz spokesman Ted Smith also argues that Heinz has strong targets of 8% to 10% in earnings and 3% to 4% in sales. Heinz and Nestlé declined comment on the buyout speculation.
Unless otherwise noted, neither the sources cited in Inside Wall Street nor their firms hold positions in the stocks under discussion. Similarly, they have no investment banking or other financial relationships with them.
By Gene G. Marcial
Before it's here, it's on the Bloomberg Terminal.
LEARN MORE