Canada: A Weak Neighbor Is a Drag on the Economy
After raising interest rates by 50 basis points this year, the Bank of Canada is finished lifting rates for the time being. Inflation is easing faster than expected, while economic performances abroad and at home are uncertain. If the Canadian economy sputters or the U.S. doesn't pick up steam, a rate cut is possible.
The hawkish tone evident over the last several months by BOC Governor David A. Dodge was absent in his speeches on June 12 and 18. That's because the central bank now expects inflation -- currently at 3% -- to reach its 2% target before early 2004, as forecasted by the BOC in April.
A big reason for shifting inflation expectations is the weak economic recovery in the U.S. Exports to the U.S. make up about a third of Canada's gross domestic product. In April, exports to the U.S. were off 4.1% from a year ago. And the trend will continue until U.S. auto sales and business investment begin to accelerate.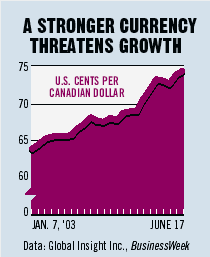 The outbreak of SARS in Toronto and a case in May of mad cow disease are making for a "very weak" second quarter, said Dodge. The central bank expects real GDP to rise by 2.5% this year, down from last year's 3.3% performance.
Factories will bear the brunt of the slowdown. Shipments of manufactured goods in April fell 3.4%, causing factory inventories to approach a record high. And reducing the excess stockpiles to desirable levels could take a while: New orders fell 4.5% in April and unfilled orders declined for an eighth straight month. But there are signs of wider softening, with May payrolls falling for a second consecutive month, by 13,000.
The BOC is also keeping an eye on the Canadian dollar, now near a six-year high against its U.S. counterpart. The rapid rise "will have a dampening influence" on the economy later this year and into 2004, said Dodge. The dollar's drag could worsen if central banks in the U.S. and euro zone cut rates while the BOC stands pat. Canada's higher rates would become more attractive, pushing the currency even higher.
By James Mehring in New York
Before it's here, it's on the Bloomberg Terminal.
LEARN MORE