The Germans Are Beating a Quiet Retreat
Their ardor for premier American properties is cooling
Last year, there was no stopping German investors when it came to U.S. real estate. Using America's most prestigious avenues as their personal shopping mall, German institutions outbid local investors and shelled out record sums to snap up choice properties in New York, Chicago, San Francisco, Washington, D.C., and elsewhere. Among the purchases: the former Washington Star building on Pennsylvania Avenue in Washington and the UBS Tower at 1 North Wacker Drive in Chicago. All told, Germans poured $4.34 billion into U.S. commercial real estate in 2002, more than all other foreign buyers put together. "The Germans gave everyone a run for their money," says Warren Bernstein, a partner at Kaye Scholer LLP, a New York law firm that has worked on deals for many German investors.
But that was last year. Now German investors are hesitating. They spent $730 million in the first five months of 2003, including purchase of the Sotheby's auction house headquarters in New York. But that was a 70% drop from last year, according to Real Capital Analytics Inc., which tracks U.S. real estate activity.
At first glance, the about-face seems to defy explanation. U.S. property is getting cheaper by the day for European investors as the rise in the euro against the dollar, already 35% in the past year, picks up speed. A change in German tax law that made it more attractive to own foreign real estate, and helped spark last year's boom, is still in place. What's more, real estate specialists say the market for prime U.S. properties is nowhere near its peak. Meantime, the appetite of German investors for real estate is heartier than ever. German real estate funds are expected to rake in another $6 billion this year and top $30 billion by yearend. Given the depressed state of the German market, that money isn't going to stay at home.
So why are the Germans pulling back? The Iraqi war dampened activity, say some analysts. Bernstein thinks there is also a sudden dearth of trophy properties for sale of the kind Germans like to buy. Others say investors are worried the euro might suddenly reverse course and are holding back until the currency picture is clearer. In any case, a weak dollar carries a downside for foreign real estate investors. "The euro's strength is a double-edged sword," says the chief investment officer of one Munich-based property fund. "We get more for our money when we acquire, but less when we convert rental earnings back into our currency."
But a recent drop in yields on prime U.S. properties provides a more potent explanation. Until recently, they have yielded between 7.5% and 8.5% a year. But competition for premier buildings -- especially by U.S. pension funds fleeing from tumbling stock markets and falling interest rates -- has driven yields down to the 6.5%-to-7.5% range, near European levels. "We can get that return in Britain and the Nordic countries, so why go to the U.S., where the currency risk is greater?" says the investment officer.
Some Germans remain bullish on the U.S. Aby Rosen, New York managing partner for the German property fund RFR Holdings LLC, says German investors are confident they won't fall into the same trap as Japanese investors in the late 1980s: buying U.S. property at inflated prices just before the market crashed. In his view, "the Germans are not overpaying. [And] they don't expect the market to go up as much as the Japanese did when they bought."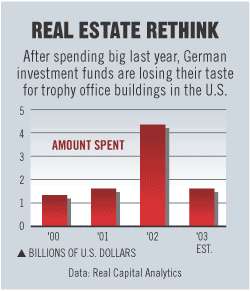 The Germans could yet come roaring back. If a U.S. stock market recovery leads American investors to switch money out of real estate and into equities, and if lower European interest rates reduce the yields on property there, "you're going to see a wave of German funds become very acquisitive in prime properties," says Thomas J. Barrack Jr., chairman and CEO of Colony Capital LLC, a Los Angeles-based investment firm focusing on real estate. "That will add to the bidding frenzy."
Maybe. But right now German property investors have only $128 million in U.S. deals in the pipeline, according to Real Capital Analytics, so don't expect last year's boom to resume any time soon.
By David Fairlamb in Frankfurt, with Chester Dawson and Emily Thornton in New York
Before it's here, it's on the Bloomberg Terminal.
LEARN MORE