J. BARRY GRISWELL
CEO, Principal Financial Group
HANDICAP: 26.9
"Though I've taken a lot of ribbing about being the highest handicapper in Golf Digest's 2002 CEO Rankings, I'm encouraged by the trend line for my scores of late, and I'm hopeful I'll be able to shed this unsought recognition shortly. If I could make a forward-looking statement, expect a big improvement for me over the next two years. Now that I'm starting to shoot under 100, breaking 90 is my next goal."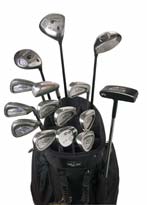 DRIVER/WOODS
Having used my Callaway VFT driver with unpredictable results, I'm testing the Great Big Bertha II. I remind myself of a Tiger Tip to grip down for better control. My shots are more predictable with my VFT 3- and 5-woods off fairways.
IRONS
I'm 6-feet-9, so getting the proper fit is a tall order. My Steelhead X-14s have an extra two inches of shaft length. I usually remove my 4- or 5-iron so I'm playing with 14 clubs.
WEDGE
Perhaps my favorite club is the Snake Eyes 56-degree sand wedge, which I use from about 100 yards.
UTILITY CLUB
As a new golfer, I too frequently find myself in trouble. My Tour Edge Any-Lie Wood-Iron is the insurance policy I use to get out from under trees and other vexing places.
PUTTER
Designed as a belly putter, my Bettinardi works as a standard putter for me. It wasn't inexpensive, but sinking putts is as crucial to my score as sinking free throws was in my varsity basketball games at Berry College in Georgia.
By J. Barry Griswell
Before it's here, it's on the Bloomberg Terminal.
LEARN MORE