A Deflation Review, Sector by Sector
S&P still thinks the risk is slight, but if inflation's uglier opposite shows its face, here's how the economy would likely react
By Sam Stovall
Can it happen here? Deflation -- the even-more-evil twin of inflation, which brings falling prices for goods and services throughout the overall economy -- has dogged the Japanese economy for over a decade. And now the Federal Reserve, at the conclusion of the May 6 Open Market Committee meeting, expressed concern about an increasing threat of deflation in the U.S. And that must have caused many investors to wonder: "What would happen to the stock market should our economy slip into an extended deflationary period?"
The last time the U.S. experienced such an environment was in the 1930s. But besides being a decade most investors would rather forget, it also may be a bit too far in the past to be meaningful for comparisons today.
Yet as the accompanying chart shows, maybe Japan's experience can offer some guidance. Its economy spent much of the 1990s in either a disinflationary period (when prices of goods and services were rising at a decreasing rate) or a deflationary one (when prices of goods and services fell in the aggregate).
Since our focus is on price performances for the Standard & Poor's TOPIX 150 (an index containing 150 highly liquid securities selected from each major sector of the Tokyo market) and its constituent sectors as a result of deflation -- not disinflation -- I felt that an examination of the period 1995 through 2002 would be the most meaningful.
As seen in the chart above, the Japanese economy first slipped into the realm of deflation in July, 1994, recovered slightly, and then checked in for a long-term stay in early 1995. (The one exception was during 1997-98 when, as S&P's Chief Economist David Wyss believes, the country's consumer price index was affected by a one-time tax hike.)
SECTOR PERFORMANCES
During the eight years from December, 1994, through December, 2002, the S&P TOPIX 150 declined more than 4% annually, led by the economically sensitive financials, materials, and telecom sectors. Not surprisingly, the sectors that held up best were the defensive consumer-staples and health-care groups.
Possibly more intriguing, however, is how well the consumer-discretionary and technology sectors performed. A possible explanation, again from Wyss, is that many companies in these sectors -- such as Sony (SNE ) and Honda (HMC ) -- are multinationals that derive most of their earnings overseas.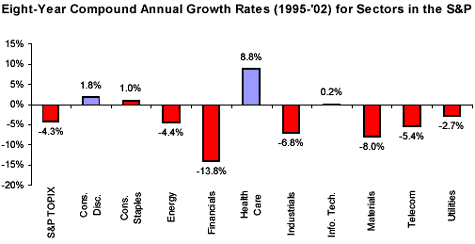 Should the U.S. economy slip into deflation, will American multinationals benefit the way their Japanese counterparts did? No, according to Wyss, since the U.S. is more likely to be sucked into a worldwide deflationary environment than to slip into one on its own. As a result, since most economies would be equally pinched, companies would have few places to hide, either locally or internationally. By Sam Stovall When the world suffered through such a scenario in the 1930s, Treasury bills were probably the only real haven. But Wyss isn't looking for history to repeat itself. For one thing, the U.S. dollar's recent sharp decline is likely to be more inflationary than deflationary, since it raises the cost of imported goods and offers domestic companies greater pricing flexibility.
U.S. SECTOR OUTLOOKS
What's S&P's outlook for prices of products and services in the coming years, and how might a deflationary environment affect the pricing power of sectors and industries in the U.S. economy? While we now believe that inflation remains a greater risk, a deflationary environment for the U.S. would harm most sectors of the economy.
In general, deflation would favor the lowest-cost producer in industries in which competition is based on price. Obvious examples are commodities, consumer goods, and technology. And since small companies are typically not the lowest-cost producers, deflation would likely be more harmful to small-cap companies than large-caps. In addition, companies with lower debt levels would have an advantage over high-debt companies.
On a sector level, not all groups would share equally in the pain. To get an idea of how deflation would affect pricing power on the sector level, I polled S&P's industry analysts. Here's how they think things could play out in each S&P 500 sector:
Consumer Discretionary: In a deflationary period, consumers would likely delay the purchase of major items as they await ever-declining prices. As a result, prices of almost everything from groceries to lodging and entertainment would have to come down to attract customers and to reflect the expected rise in unemployment and falling salaries.
One could argue that the auto industry has been battling with such a scenario for the past few years. Autos have become more affordable, as incentives and additional standard features have offset rising prices.
Apparel and footwear prices should continue their deflationary trend as consumers seek value in an uncertain economic environment. Having become accustomed to markdowns, they would likely expect a highly promotional environment driven by retailers' attempts to draw people back into their stores.
Home-improvement retailers should see stable prices, except in such basic commodities as lumber, where price deflation has resulted from oversupply.
Home-furnishings and office-supply retailers have avoided heavy promotional activity and will likely see stable prices in the coming months.
Consumer Staples: Packaged food and soft-drink companies have already endured several years of little-to-no pricing power. And since commodity, energy, and benefits costs remain above year-ago levels, prices in the near-term for certain categories are more likely to rise than fall.
For household products, pricing has also been flat to lower, as companies endure severe competition from brand-name peers and private labels. In general, however, we believe demand for personal-care products is better insulated due to higher brand loyalty for cosmetics and fragrances.
In a deflationary environment, consumers may trade down from full-price cigarettes and alcoholic beverages to discount brands. Supermarkets, drugstores, and food wholesalers also may see weaker prices in a deflationary environment, but their already thin margins wouldn't likely shrink too much. By Sam Stovall Energy: We see deflation having little direct impact on energy prices. Today, supply concerns remain the dominant factor, as U.S. oil and natural-gas inventories continue to be quite low. As a result, we see the market remaining fundamentally tight and believe that supply constraints and unexpected disruptions could cause price spikes.
We expect North American drilling to continue picking up, particularly on the very strong need for natural gas. As drilling utilization rates rise, we expect to see a corresponding increase in daily rates charged by drilling-services outfits, which should aid both drillers and oil-field service companies.
Financials: This sector would likely be hit hard not only by a slowdown in consumer borrowing but also by a narrowing of interest-rate spreads.
Thrifts would likely be hurt since their business model relies on two products -- mortgage loans and consumer deposits. Mortgage loans are based on long-term rates, while interest paid on deposits depends on short-term rates. In a sustained deflationary environment, both short- and long-term rates would come down. But because long-term rates are currently higher, due to the relatively steep yield curve, the rates on mortgages would have further to fall. In addition, margins could narrow, since thrifts may not want to reduce deposit pricing, since deposits are already paying rock-bottom rates and offer consumers little incentive to save.
The property-casualty insurance industry is now enjoying a relatively high degree of pricing power. This is particularly true for certain commercial lines of casualty risks and for those policyholders with a less-than-stellar risk profile.
For the asset managers, if deflation causes stocks to remain weak, then they would continue to see poor demand and might need to further cut their fees, which have been eroding for some time now.
While deflation would likely lead to lower interest rates, consumer-finance companies would be required to offer more aggressive and competitive pricing, while striving to maintain their healthy net-interest spreads.
Health Care: In general, a deflationary environment would likely cause prices to fall more slowly in this sector than in others.
Within the medical-device segment, the expectation is that prices will, on average, rise by about 3% to 4% annually over the coming three years. This would reflect new-product introductions and higher prices from Medicare and from certain foreign governments.
Managed-care and health-care facilities are show no signs of delation now. However, growing employer resistance to HMOs are resulting in larger buydowns (whereby companies cut down on expensive options and reduce the hit from rate hikes by implementing higher co-payments) and the development and increasingly widespread use of consumer-directed health plans. In the future, managed-care companies may face more employer resistance to ongoing double-digit price increases.
Hospitals are already facing pressure to reduce the rate of price increases because of heightened government scrutiny. Hospitals face their own rising costs: wage inflation due to a shortage of nurses and other health-care workers that's unlikely to be solved in the foreseeable future, rising malpractice insurance costs, and higher outlays for new technology. By Sam Stovall Industrials: The commercial-aerospace segment is already experiencing large production overcapacity, which should prevent companies from raising prices for many years. Military contractors, however, might not suffer as much from deflation, even though they also have their own capacity issues.
Although the waste-management industry has been experiencing competitive pricing, major haulers are raising prices. Also, some of these companies should be able to continue doing so during a period of deflation in exclusive markets, where they hold a large market share and customers have few alternatives.
Most transportation companies would probably have to cut prices, as their customers would likely balk at fare increases. Trucking outfits should have a bit more flexibility, however, due to capacity cuts in the industry.
Information Technology: Even though technology companies have almost always experienced declining prices, a deflationary environment would likely cause price competition to become more intense.
Moore's Law states that semiconductor prices fall by half as performance (the number of transistors) doubles every 18 months. Semiconductor average selling prices (the average price -- ASP -- of all chips sold in a given period) have been in a downtrend since 1995. Although prices appear to have stabilized recently, the industry continues to suffer from excess capacity making the pricing environment difficult.
We expect ASPs to eventually rise, as demand overtakes production capacity, but probably not on a broad scale until 2005. A lot of chipmaking capacity exists today. As a result, deflation could delay a sales recovery for the industry.
Deflation may not hit data processing companies very much. The larger companies that process payment or securities transactions benefit from long-term contracts, significant barriers to entry, and pricing power. In addition, they may even benefit from a reduction in computer and technology costs.
Internet retailers have already been in a price-reduction mode, enabling them to increase volumes, as well as customer rolls and loyalty. This tactic would likely help the larger players, as the smaller players would probably not be able to make up the margin squeeze with volume.
Materials: Base metals, such as aluminum, copper, nickel, and steel, would likely be hurt by deflation, although the downside from current levels might not be great due to already generally depressed state of prices. Also, new lows in these commodities would result in mergers and production curtailments, which could also limit the downside.
The impact on gold is less clear. Generally speaking, deflation might be considered negative. However, the current low interest rate environment, combined with waning faith in financial assets, could cause investors to turn to gold.
Capacity utilization (a measure of supply and demand fundamentals) and, to some extent, energy and feedstock costs drive prices for industrial chemicals. As a result, falling chemical prices aren't unusual in the face of overall inflation. In general, however, industrial chemicals would likely see price declines.
For specialty chemicals, price is more determined by a product's value than by feedstock costs. If a specialty-chemical product can improve quality or reduce other costs, then their price levels could be maintained. Yet if enough customers demand lower prices, they'll get them.
Telecommunications Services: While competition has reduced retail pricing per minute for wireless services, providers have indirectly raised pricing through surcharges and special fees that are not always visible to the customer.
Telecom-equipment companies experience at least 10% to 15% annual price declines in normal periods. Weak global demand for network infrastructure puts even greater pressure on pricing, especially since the end-user market is highly concentrated around the globe. These companies benefit from wholesale suppliers that are under pressure to reduce pricing on chips, components, and other material.
Utilities: Natural-gas and electricity markets should be driven by specific supply and demand dynamics, vs. overall economic pricing issues. Electricity margins are expected to be flat to modestly higher through 2004, as companies work off the huge glut of power over the next two to four years. While a faster-growing economy could help burn off that excess, a deflationary environment would likely keep power margins depressed.
Retail electric utility rates are regulated, so a deflationary environment wouldn't likely have an immediate effect. It could, however, affect weather-normalized demand from industrial and commercial customers, and would likely depress unregulated wholesale power prices.
The water-utilities industry is also regulated. The respective state commissions decide on each company's rate hike request, generally awarding an average of 75% of the rate request. These price hikes cover their high capital investments.
Stovall is chief investment strategist for Standard & Poor's
Before it's here, it's on the Bloomberg Terminal.
LEARN MORE