Afternoon tea is getting down to business. Shorter -- and, at under $35, less expensive -- than a typical business lunch, the four o'clock ritual offered by a growing number of hotels is proving an efficient way to talk shop and do deals.
When Royce Berler, director of retail at Italian shoe designer Bruno Magli, wants to meet designers or buyers, she'll snag a velvet sofa at the Four Seasons Hotel in Midtown Manhattan and toss ideas around over tea and scones. "The office is so serious, and having a full meal with someone you don't know is too intimate," she says. On a recent Thursday afternoon, a stream of fashion industry people made their way to Berler's side, with most meetings lasting no more than a half-hour. All around her, three-tiered pastry caddies competed for table space with her press kits and other papers.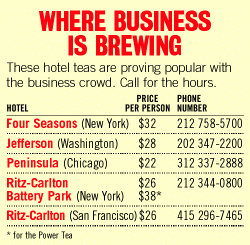 The comfortable setting helps break the ice. "Because it's a nontraditional way of doing business, tea becomes a conversation topic," says Terence Tsang, who manages the Four Seasons' tea service from 3 p.m. to 5 p.m. daily. And getting together for tea neatly sidesteps the tricky business-lunch question of whether it's appropriate to drink.
The practice is popular with both women and men. But just to make sure businessmen feel right at home, the Ritz-Carlton Battery Park, in the heart of New York's financial district, offers an alternative to its traditional tea that has more testosterone appeal. Instead of sweets and cucumber sandwiches, the "Power Tea" boasts a macho steak tartare.
By Drew Limsky
Before it's here, it's on the Bloomberg Terminal.
LEARN MORE