If your bag's filled with a jumble of AC adapters, cradles, and cords for all the portable gear you have to carry, then you need the iGo Juice from Mobility Electronics ($100 to $120). It's a single power supply that works with virtually every notebook and handheld computer -- and most cell phones. Even better, you can plug it into a wall outlet at home or in a hotel, the cigarette lighter in your car, or the armrest power outlet found on some airlines.
The silver-colored Juice weighs about half a pound -- a tad less than the single-purpose adapter that came with my IBM ThinkPad and about half the heft of IBM's AC/DC version. (It's considerably more stylish, too.) Extra cords for other gadgets cost about $20 each and plug into a "Y" socket in the cord running to the notebook. That means you can recharge your Palm or phone and PC or Mac simultaneously.
It's still a jumble of cords, but they all stow neatly into Juice's zippered bag. Think of it this way: For every new cord you carry, you leave at home a bulky adapter brick or cradle.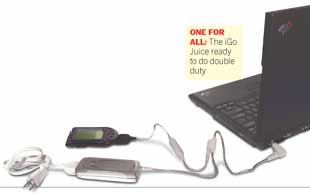 By Larry Armstrong
Before it's here, it's on the Bloomberg Terminal.
LEARN MORE