Netgear: A Hot IPO That Leaves Me Cold
Another year like this, and we'll forget what IPO stands for. Through late April, just four initial public offerings had braved the market, down from 24 through April of last year and 158 in 2000. Not since 1975 have IPOs started a year so cold. Yet if anything anywhere can be called "hot," count on Wall Street to sell stock in it. What's hot now? Wi-Fi.
Wireless local networking for computers, or Wi-Fi, is coming to IPO land via a little company named Netgear. Specific terms of the deal, to be led by Lehman Brothers, have yet to be set. But count on this IPO to draw a crowd. For one thing, it's tech: Netgear makes a slew of networking stuff, both wireless and wired, for homes and small offices, including routers, switches, hubs, adapters, print servers, and access points. It's also familiar: You can find Netgear on shelves at such spots as Best Buy or CompUSA. And unlike so many tech IPOs, it's no financial basket case -- operations in 2002 generated cash. The question is: Should you join the fans of Netgear?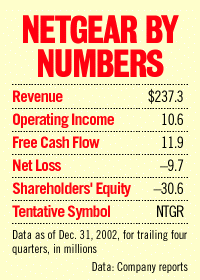 Don't rush. Ahead of the deal, executives at the Santa Clara (Calif.) company declined to answer my questions. However, the registration statement they filed with the Securities & Exchange Commission lays out many details, including Netgear's startup in 1996 as a unit of Bay Networks. In 1998, Nortel Networks (NT ) bought Bay, but in February, 2002, Nortel dumped its Netgear stake, leaving venture capital and hedge funds as principal owners. They saw the company raise revenues last year by 23%, to $237 million, as home networking got a boost from growth in broadband access. Now, Netgear sees more growth ahead, estimating that the total market for its products may reach $5.2 billion in 2005, from $3 billion last year.
For all its experience and prospects for growth, though, Netgear can hardly be called a market leader. Walk into a retailer, or go online to Walmart.com or Amazon.com, and you will surely find Netgear products. But they in no way enjoy favorable placement among a bunch of other brands, including Belkin, D-Link Systems, Linksys, Microsoft, U.S. Robotics, and more. At Amazon.com recently, of the 25 top-selling networking items, Linksys claimed 14, D-Link six, and Netgear just three. At Best Buy and CompUSA, the Netgear products I saw commanded less shelf space and were generally pricier. Salespeople quickly pointed me toward rival products, as they did also at Circuit City Stores.
Retail sales strategies and fortunes can change abruptly, of course. But Netgear faces a tougher and tougher challenge in reaching consumers. Not only must it contend with the marketing muscle of Microsoft but Linksys' pockets are set soon to deepen. After piling up $429 million in revenue last year, it's now being acquired by Cisco Systems (CSCO ). At last report, Cisco was sitting on a $9.5 billion hoard of cash and short-term investments. Cisco says it aims to maintain Linksys' No. 1 spot in the consumer market for networking gear.
So, while it's easy to see that Netgear is in an attractive, growing market, it's just as easy to view it as an also-ran. What might shares in the company be worth? Here are a couple of ways to estimate its value. First, note that Cisco Systems is paying 1.2 times last year's sales for Linksys. Apply that multiple to Netgear, and the company might be worth $280 million or so. Another gauge is to look at the exercise price attached to stock options issued by Netgear as recently as February. That indicates a total private-market value of about $193 million.
Netgear's underwriters have yet to indicate a price for the public shares. As they do, expect to hear plenty about the super growth potential of Wi-Fi. Just don't let the Street's enthusiasm for finally having something hot to sell make Netgear's IPO anything to you but forgettable.
Before it's here, it's on the Bloomberg Terminal.
LEARN MORE