The war was lightning fast. Now comes the peace. In this, our fifth cover on the war, we focus on the stakes for business in the global economy -- how the war's geopolitical impact could affect corporations directly. The big question: Will the enormous rise in anti-Americanism seen worldwide as a result of the war spill over to the business realm and cause problems for the continued development of globalization and free markets? Or will the reconstruction of Iraq and the war's aftermath generally go well?
The political alignments that emerge in the next few weeks could both recast the direction of Europe and set the course for a healthier global economy. From the tech bust to terrorism, from America's $1 trillion corporate scandals to the Iraq war, companies have had three years of solid reasons to hold off on investments. Now, there's a pent-up wave of capital investment waiting to break, but it won't happen easily in an angry and hostile world.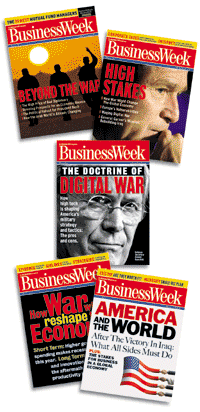 A replating of the fissures within Europe and across the Atlantic is essential, and everyone has a repair job to do, say John Rossant, our European Regional Editor, and Lee Walczak, our Washington bureau chief. A sturdy peace will challenge some deeply held U.S. assumptions, they note. One is that a small, focused group of nations can do a better job of reviving Iraq than a U.N.-led multinational one. Two, that paying for rebuilding can be done with oil revenues, some international contributions, and support from Persian Gulf states. Three, that convincing evidence of Saddam's treachery will dilute Europe's argument that the war with Iraq was immoral. Says Walczak: "The U.S. has a short, crucial window to demonstrate that it knows how to wage peace as well as it wages war."
Despite anti-U.S. rhetoric in Europe, says Rossant, both Europeans and Americans have been reminded lately of how intensely intermingled the $2.5 trillion transatlantic economy is -- and how it doesn't need any more damage.
Even more, a robust peace means calming enraged Arabs across the Middle East. Whether their governments are friendly or not, their own hatred of America is visceral. "The region is at a turning point -- and the direction it takes will depend largely on how the U.S. plays its hand," says Middle East correspondent Stanley Reed, reporting from Damascus.
Nobody expects the Bush Administration to win hearts and minds without proving that the war was legitimate. That's why the shape of Iraq's new government and Europe's re-mending will be the leading topics in the next few weeks. We'll be there to bring you the updates.
By Bob Dowling, Managing Editor, International
Before it's here, it's on the Bloomberg Terminal.
LEARN MORE