Commentary: How to Fix the Airlines
The troubled industry needs a model that works. Here's a blueprint
Has there ever been a time when the airlines weren't in crisis? Since deregulation in 1978, they have lurched from one calamity to another. Eastern Airlines shut down after the first Gulf War. Pan American slowly liquidated, done in by a terrorist bombing. And TWA, after going bankrupt three times, was gobbled up in 2001 by American Airlines (AMR ).
But now the fate of the entire industry is up in the air. Airlines posted total losses of $17.7 billion in 2001 and 2002, as terrorism fears combined with the collapse of stocks and profits to scare off passengers. This year might be worse: With bookings off as much as 40%, and the possibility of a long war in Iraq, the Air Transport Assn. says losses could reach $13 billion. "Right now, I wish I had listened to my father," moans J. George Mikelsons, chairman and CEO of Indianapolis-based ATA Airlines Inc. "He wanted me to play the violin."
Why not let the mess sort itself out? It has been a godsend to consumers, with today's fares at 1987 levels. The problem is, the model is not sustainable. As the industry works its way through the current crisis, it has an historic opportunity to make changes that would allow it to become profitable and stable. The cuts that airlines have made so far don't go nearly deep enough. US Airways Group Inc. emerged from bankruptcy with $1.9 billion in annual savings. American Airlines Inc. reached tentative cost-saving pacts worth $1.8 billion. Even so, both will almost certainly lose money this year and next.
Achieving a reliable, consistently profitable air transport system will require bold leadership from management, labor, and government. Clearly, big carriers need to cut costs and get realistic about which markets they can profitably serve. Labor has to accept pay cuts and more flexible work rules. And Washington should butt out.
Here is BusinessWeek's plan to fix the airline mess: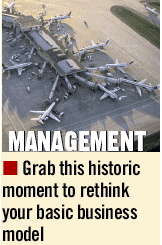 The hub-and-spoke system that sprang up after deregulation still makes a lot of sense. But as the big airlines now concede, the system has grown unwieldy and far too costly at a time of recession and corporate belt-tightening. They need to permanently prune seat capacity by an additional 20%, at least. And they'll have to dismantle some of their 24 hub cities.
The major carriers will not be abandoning hub-and-spoke anytime soon, with good reason. That structure is the most efficient way to serve many small and medium-size markets. Last year, passengers at the typical "spoke" airport connected to 75 destinations, vs. 48 in 1992. "Small communities have gained access to markets they would never have been able to merit on a nonstop basis," says Michael S. Allen, chief operating officer of consultant Back Aviation Solutions.
Problem is, not all those small markets are profitable under the current setup. And while discount carriers, such as Southwest (LUV ), AirTran Airways (AAI ), and JetBlue (JBLU ), are growing rapidly, they still serve only about 20% of the domestic market. They're not likely to move into many of the less traveled routes served by the majors. "We can't compete with that kind of network and that kind of service," concedes David F. Ulmer, vice-president for planning at JetBlue.
To maintain service, the big carriers must make both hubs and spokes more efficient. American and Delta Air Lines Inc. (DAL ) have already adopted a system of "continuous," or "rolling," hubs, where the emphasis is on using aircraft, gates, and employees more productively, even if fliers have to wait a bit longer for connections. American figures it saves $100 million a year at Chicago's O'Hare International Airport and Dallas-Fort Worth International Airport that way. The airlines also have been taking an ax to high-frequency schedules that may have lured business travelers during the boom but now are an economic anchor. That's why American has eliminated 21% of its flying capacity between Dallas and O'Hare since April, 2001.
But cities that made sense when traffic and fares were high -- or that sit near stronger hubs -- might be scaled back. Candidates include American's St. Louis operation, acquired with bankrupt TWA, Northwest (NWAC ) in Memphis, Continental (CAL ) in Cleveland, and US Airways in Pittsburgh.
While they shrink, the big carriers also will have to turn over more of their domestic flying to lower-cost regional partners and dump the union contract restrictions that have prohibited such efficiencies. US Airways is an example of how to go. Last year, the company's 11 feeder airlines had 70 regional jets. Under a new contract with its pilots, US Airways and its regional partners can take that number to 465. The 50-seat planes, which are more fuel-efficient and have smaller cabin crews, can make money with roughly 40 passengers. A Boeing 737 needs 100 or more.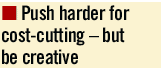 There's no question that the "legacy" carriers are all working furiously to lower their costs. But they need to be more aggressive. For most network airlines, that means trimming costs by at least a third. At the same time, they need to cut their ballooning debt loads to return to health.
What the big carriers have yet to own up to is that they need to be truly competitive with Southwest and its ilk if they want to grow and thrive in the long run. "There is no refuge until your unit costs are at least as low as those of your lowest-cost competitor," says airline consultant Stanley L. Pace at Bain & Co. That may not be totally realistic. But after adjusting for differences in trip lengths, United Airlines Inc.'s (UAL ) unit costs for the 12 months ended in June, 2002, were 140% higher than Southwest's. Even Continental Airlines Inc. -- one of the most efficient network carriers -- had double Southwest's unit costs, according to analyst Gary Chase at Lehman Brothers Inc. With the $1.8 billion that American appears to have cut from its labor costs, the airline still will only reach Continental's unit costs, figures Chase.
Of course, the traditional carriers say they don't need to match discounters' costs. American historically has achieved at least a 30% "revenue premium" over the low-cost carriers, by charging more on routes with little competition and winning more high-paying business passengers. They have been willing to pay more for first- and business-class service, airport lounges, frequent-flier programs, and other amenities.
But is that 30% premium sustainable? Probably not. With Southwest, JetBlue, and other low-fare players rapidly expanding their routes and becoming more valuable to business passengers, that revenue stream is in jeopardy. "It's a real question whether [the network carriers] are providing something of value to the consumer," says airline consultant Michael Roach of Unisys R2A Transportation Management Consultants.
Losing that cash has dire implications with balance sheets so weak. Even when the economy improves, big carriers might not get the sustained bounce they'll need. Total net debt rose by $33 billion, or 61%, for the industry since 1999, says the Air Transport Assn. The 11 largest carriers are more than 90% leveraged.

So management needs to be much more aggressive now, and not just with labor. "A lot of these guys grew up in the airline business, and they're not thinking outside the box," says John Pincavage, president of aviation financial advisors Pincavage & Associates. He suggests more airlines aggressively outsource engine and airframe maintenance, as Southwest and other lower-cost players do. They might need to sell maintenance facilities to their workers through an employee stock ownership plan, offering an initial contract.
More flexible aircraft lease terms could allow carriers to rapidly adjust capacity and costs in a downturn. Continental CEO Gordon M. Bethune envisions such deals as buy two planes, rent a third by the month. "Boeing and Airbus aren't going to be able to sell planes unless they take some of the risk back," Bethune says.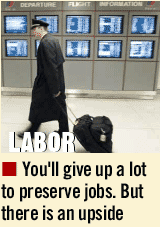 Workers understand they have to give on wages and work rules. How much? At least a third, on average -- more than most have agreed to so far. The good news? Many will get to keep their jobs and should have a say in how the industry emerges.
Thanks to their clout, unions have made pilots and other airline employees among the best-paid workers in America. Airlines typically spend 40% of their outlays on labor, so to make ends meet in today's environment of slumping demand and tight-fisted fliers, these companies have no choice but to bring down payroll expenses. To match the standard setter, Southwest, analysts at Unisys R2A say the other major carriers would have to cut unit labor costs by 30% to 85%.
To truly compete, though, the airlines have to go beyond wages, to address steep legacy costs and antiquated work rules. Some workers already get this. At US Airways, labor negotiated a restructuring that lowers payroll costs by $1 billion a year, or 30% from 2002 levels, which includes raises that employees otherwise would have received. But US Airways also shucked its underfunded pilot pension plan, transferring the obligation to the government's Pension Benefit Guaranty Corp., with the grudging consent of the Air Line Pilots Assn. The move reduced US Airways' pension costs by roughly $700 million over the next six years. Without question, that will pinch: Under their previous plan, pilots got on average $50,000 to $70,000 a year in pension benefits when they hit mandatory retirement at age 60. The PBGC caps pensions for 60-year-old retirees at $28,500.
At United, the focus is also shifting beyond wages. In early March, the airline petitioned a bankruptcy judge to nullify its existing labor pacts so that it could make temporary wage reductions of up to 29% permanent through 2009 and impose new work rules. United complains, for instance, that it has to employ 472 skilled mechanics at 18 airports to oversee the push-off of planes from airport gates. If other workers at United did this work -- it proposes using other ramp workers or gate agents during their downtime -- United calculates it would save nearly $40 million a year. United also wants to outsource cabin cleaning, estimating it can find nonunion workers at $10.50 an hour, instead of being forced to rely on machinists, who get up to $27.89 an hour.
Still, this is a tough sell for many proud airline workers. United pilots gave in on Mar. 27, agreeing to a six-year concession package that calls for them to work an average 65 hours a month instead of the old 44 hours. The other unions aren't buckling. Painful as it would be, they should.
Rank-and-file employees are justified in raising a question of equity -- after all, how many CEOs voluntarily reduce their own pay and perks to what they earned 10 or 12 years ago? It doesn't help that some CEOs keep raking in the loot. Leo F. Mullin at Delta got a nearly $200,000 boost in salary last year, and $3.4 million in new bonus and restricted stock -- all as Delta sank into red ink. American CEO Donald J. Carty seems to have gotten the message. He's taking a 33% pay cut this year and declining a bonus for the third consecutive year.

But unless the big carriers can profitably match fares offered by discount rivals, they will continue to lose share. And that in turn means workers' livelihoods will be at risk. United has furloughed more than 25,000 employees, 25% of its workforce, since the September 11 attacks. The industry has shed nearly 100,000 workers.
Unions should concentrate on crafting variable pay deals that give them more of the upside in a recovery. United pilots would get profit sharing and an equity stake, in exchange for allowing the launch of a low-cost airline with lower-paid employees. And American workers bargained for stock options and profit sharing in return for pay cuts of more than 15%, rule changes, and layoffs. "We understand that significant sacrifices need to be made," says Paul R. Whiteford Jr., head of the Air Line Pilots Assn. at United Airlines. The lesson: A job is still a job.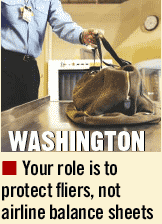 Once again, the airlines are pleading for a bailout. But if the federal government dishes out more cash or another round of taxpayer-backed loans, airlines could avoid making the tough decisions that are key to their long-term survival.
After the terrorist attacks in 2001, a sympathetic Congress rushed through a $5 billion cash handout and up to $10 billion in loan guarantees. This time, airlines claim they're being victimized by the Iraq war, and execs want the government to take over all the costs for stepped-up airport security and rescind other ticket taxes and fees. Some are praying for cash, too.
Lawmakers should think hard about intervening so directly. Yes, costs have gone up since September 11. Securing cockpit doors alone cost an estimated $310 million, while adding federal security employees at airports and new baggage-screening equipment -- paid for in part through a $2.50 tax on each one-way ticket -- is costing up to $4 billion a year. These are national security expenses that legitimately should be picked up by the government, not airlines. But that's where the government's funding responsibility ends.
If United Airlines can't get unions and creditors to go along on a restructuring, so be it. Let it liquidate. It's a big presence, with 16% of the U.S. market, but other carriers could fill much of that immediately. "The be-all and end-all should not be to ensure airline investors and lenders make money," says airline expert Daniel M. Kasper at economic consultancy LECG Inc. "That's not market competition. That's socialism by another name."
There's something else the government should no longer do: automatically object to airline mergers. In mid-2001, the Justice Dept. blocked United's proposed takeover of US Airways, arguing that it would stifle competition. While the deal was ill-conceived -- United likely would have been pulled into bankruptcy much sooner -- the government should rethink its antitrust position and encourage consolidation. Though Southwest and others might object, that would speed the way toward less capacity. Instead, blocked from outright acquisitions, airlines are forming alliances. United and US Airways, for example, now allow bookings on each other's flights. The result: Airlines don't drop overlapping routes -- indeed, they have every incentive to keep routes, since they collect revenue only from their own flights.

Consumer advocates fret that a rash of mergers would result in an oligopoly -- and sky-high fares. But Washington could undercut the industry's pricing power by taking a couple of steps. Federal law currently bars foreigners from owning more than 25% of the voting stock of a domestic airline or 49% of its equity. That law should be tossed out. Foreign carriers should be invited to compete in the U.S. without restrictions. And some have expressed an interest, including profitable Singapore Airlines Ltd. Richard Branson, chairman of Virgin Group Ltd., also wants to launch a low-cost U.S. airline, with U.S. partners if necessary. "Why should the American taxpayer be forking out billions to prop up an ailing industry when the likes of Virgin are willing to invest their own hard-earned money and put it at risk in setting up in America?" he asks. Good question.
It's also time for Congress to amend airline labor law. The National Railway Labor Act makes airline strikes exceedingly difficult. But it doesn't make contract bargaining easy. What's needed instead is a setup similar to what exists in Major League Baseball: If management and labor cannot find a compromise, both sides present final offers to an arbitrator who chooses the better one -- without amendment. That would ensure that each side presents a realistic offer, averting much of the strife that has poisoned labor relations.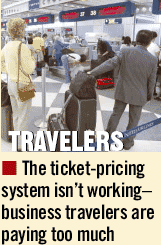 The current ticket-pricing system, based on charging high fares to last-minute business fliers, is clearly broken. Last year, typical business fares were nearly six times that of the lowest discount fare, according to American Express Co. As business travelers flee to discounters, or just stay home, American, United, and Delta are slashing their highest fares by 40% or more. That doesn't mean leisure fares have to be jacked up -- more efficient airlines might be able to make money at those rates. In the end, the airlines must find simpler fare plans that narrow the gap between the highest- and lowest-paying travelers.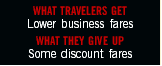 The fixes may sound simple. But fundamentally repairing the industry won't be easy. Almost every constituency has a vested interest in maintaining the status quo, particularly labor. Indeed, it's likely that major airlines will do as little as they can to muddle through this downturn, propped up by more aid from Washington and too-forgiving creditors.
But that's not good enough. Everyone -- travelers, employees, taxpayers and shareholders -- would be better off if airlines had an enduring business model. We could continue to lurch from bust to boom and back again. Or we could seriously restructure this vital industry once and for all.
By Michael Arndt and Wendy Zellner
Before it's here, it's on the Bloomberg Terminal.
LEARN MORE