Intel's Laptop Chip Is Going Places
The Pentium M will lead to smaller, speedy notebooks that boast longer battery life
Although Intel (INTC ) chips have been running portable PCs for nearly 20 years, the company has never designed a processor specifically for mobile use. Every laptop chip, from the 8088 of the mid-1980s to today's Pentium 4-M, has been a modified version of a processor originally developed for desktop use. On Mar. 12, Intel finally introduced a processor designed from the get-go for mobile use. It turns out this makes a big difference.
Unfortunately, Intel has confused the situation by introducing two brands, Pentium M for the processor itself and Centrino, a name used on laptops that use the Pentium M along with an Intel chipset and Intel Wi-Fi wireless network adapter. Moreover, Intel must overcome years of marketing in which it promoted the clock speed of its chips. At 1.6 GHz, the fastest Pentium M sounds slower than the 2.4 GHz Pentium 4-M it supercedes. But clock speed only measures how fast a processor can execute a single instruction, and many other factors determine overall performance.
The muddled marketing message should not obscure the fact that the new processor is a winner. Although it will run all software written for the rest of the Pentium family, the Pentium M is not derived from any earlier product. It was developed under the code name "Banias" by a research team in Israel with the goals of reducing power consumption and heat output while optimizing the processor for wireless use.
The immediate payoff for using the Pentium M is some combination of smaller and lighter notebooks and longer battery life, without sacrificing computing power. Laptop makers report battery life gains of from 10% to 40% in designs where a Pentium 4-M or III-M is replaced by a Pentium M. For example, Gateway has seen its 450 laptop go from a bit over three hours to five with a standard battery. At the same time, says Jay Parker, senior marketing manager for Dell Computer, "we are finding that a 1.6 GHz performs the same or better than a 2.4 GHz Pentium 4-M."
Next week, I will take a closer look at some of the first Pentium M products. Some laptop makers' first models will use existing designs, so the benefits are limited mainly to longer battery life. The big payoff will come with new mechanical designs that take advantage of the processors' lower power and cooling needs. For example, the new Sony Vaio Z1A, the IBM ThinkPad T40, and Dell Latitude D600, all announced at the Mar. 12 Intel launch, will be significantly thinner and lighter and deliver more battery life than the products they replace.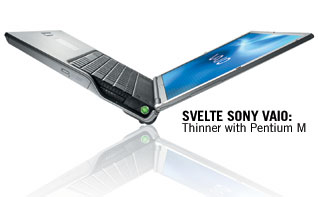 As time goes on, the capabilities of Pentium M products will expand. One likely area is power management options. For example, Mark Hanson, general manager of Sony PC marketing, expects options that let a laptop user trade a bit less processing power for assurance that the cooling fan won't turn on noisily during a presentation. With any new processor, battery life typically improves as manufacturers learn to tweak settings.
Though computer makers love Pentium M, they're not thrilled with how Intel is going to put most of its marketing effort behind the Centrino brand, leaving it largely up to the laptop makers to establish the Pentium M. Many manufacturers believe this branding strategy is designed to coerce them into using Intel's Wi-Fi network adapters, which creates two problems. One is that some corporate buyers insist on specific alternatives, especially Cisco's Aironet adapter. Another is that Intel offers only one flavor of Wi-Fi, 802.11b, at a time when two faster alternatives are hitting the market. Some corporations want adapters that support both 802.11b and the higher bandwidth 802.11a, something Intel won't offer until midyear. And for consumer products, laptop makers are getting interested in the high-speed 802.11g, to which Intel is not yet committed.
This will create confusion. For example, Dell's Latitude D600 and D800 will carry the Centrino brand. But buyers can choose a Dell 802.11g wireless adapter (which also works with existing 802.11b base stations) at no extra cost. Or they can opt to pay extra for an adapter compatible with a, b, and g networks. IBM will offer ThinkPads both as Centrino products with the Intel adapter and as Pentium Ms with Cisco's version.
This muddle is unfortunate and unnecessary. But there is a positive side. As part of its marketing push, Intel is spending heavily to expand the availability and awareness of public wireless networks. That should be a big benefit to everyone, whether they use Intel's Wi-Fi adapters or not.
By
Before it's here, it's on the Bloomberg Terminal.
LEARN MORE