Experience Counts
Growth Fund of America's veterans rack up results
Named best actor of 1972 for his role in The Godfather, Marlon Brando flat-out refused the Oscar. Woody Allen played a jazz band gig rather than pick up his 1977 Oscar for Annie Hall. So let's just say the team running the Growth Fund of America (AGTHX ), which declined to discuss its Excellence in Fund Management award with BusinessWeek, is in good company.
That's not out of character for the managers from the American Funds Group. Of the six, Gordon Crawford is the only one who talks to the press, and that's to discuss media stocks, not the fund.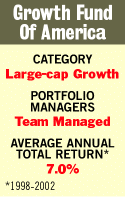 American Funds doesn't have to beat the drum. It's one of the few groups taking more money into stock funds than is flowing out in redemptions. The record of Growth Fund of America, the company's flagship stock fund, explains why: The fund has earned an average annual total return of 7% a year over the past five years, vs. a loss of 2.3% for the average large-cap growth fund.
Standard & Poor's analysts hail the fund's team approach: Each manager has autonomy over a portion of the fund, which is divvied up according to a manager's experience. That makes running the $31 billion fund less unwieldy. The managers are veterans. Their tenure in the investment world ranges from 17 to 38 years. The fund is also highly diversified, with hundreds of holdings.
Growth Fund of America, like all the American Funds, is sold by brokers and financial advisers. Given its success, you can conclude that when given a chance to buy the fund, it's an offer investors rarely refuse.
By Mara Der Hovanesian
Before it's here, it's on the Bloomberg Terminal.
LEARN MORE