In Search of the Perfect Combo
These two devices offer phone, PDA, and e-mail. Both have flaws--and selling points
In my unending search for the perfect combination phone, PDA, and wireless e-mail device, I've spent some time with a new model from Palm (PALM ) that's barely a phone and one from Sony Ericsson that's barely a PDA. But I came away convinced that each may have a place in a market where the range of consumer tastes and desires is so broad that no single concept can begin to satisfy everyone.
The Tungsten W from Palm Solutions is a departure for Palm in two key areas. It's the first Palm with an integrated keyboard and the company's first wireless device to use the new higher-speed wireless phone networks. Both make it much better suited for e-mail than predecessors such as the Palm i705.
The Tungsten W will be offered initially in the U.S. by AT&T Wireless (AWE ) and in Canada by Rogers AT&T Wireless. The suggested retail price is $549, but carriers will probably sell it for a bit less. You'll also need a wireless voice and data plan, starting at about $50 a month.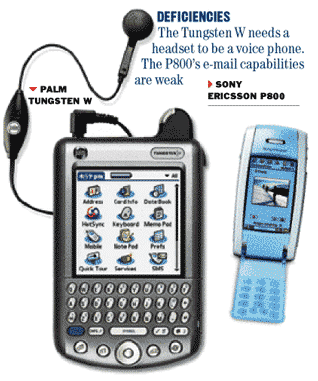 In addition to all the familiar Palm functions, it offers Web browsing (not very useful on the small screen), access to Internet e-mail accounts, and with a $99.99-a-year service from Visto, access to corporate Microsoft Exchange or Lotus Notes mail. Unfortunately, Palm's VersaMail program suffers from poor screen design. The inbox display gives only one line of about 30 characters to each message. If you display more than one column of information, say sender and subject, there won't be enough of either to make sense. The program also makes you check manually for new mail.
These e-mail deficiencies, which could be fixed with software changes, are especially peculiar because the Tungsten W is pretty much a pure data device. It can be used as a voice phone only with a headset. That rules it out as a primary phone because unless you have the headset at the ready, there's no way to answer an incoming call. (In June, Palm will offer a $40 "flip cover" that includes a microphone and speaker, letting you use the Tungsten as a conventional phone. But it looks like a clumsy solution.)
The Sony Ericsson P800 is likely to mystify most Americans. That's because it represents the European vision of a hybrid. It's just a little wider than a standard bar-type phone with a flip-down dialpad that covers much of the 2 1/2-inch by 1 5/8-inch display when folded up. As a phone, it has a few faults, the main one being a speed-dial display that makes it difficult if you have multiple numbers, say an office and a mobile phone, for a single contact.
The P800 can synchronize calendar and contacts with Microsoft Outlook and Lotus Notes. If you have a long contact list, it can be tedious to find the one you want, although once found, it's very easy to dial the phone just by tapping the number.
E-mail is far less important in Europe than in North America. You can set the P800 up to handle mail from any standard Internet account, but with no keyboard, you must enter text by writing on the screen in Jot, a Graffiti-like simplified alphabet. The display of messages is even worse than on the Tungsten, showing just 10 characters each of the sender and the subject. On the other hand, Europeans make extensive use of short message services (which work reliably across carriers, unlike in the U.S.), and they don't mind tapping out SMS messages on a dialpad. The P800 has a built-in camera whose images can be sent using multimedia message services, which are not yet generally available in the U.S.
The P800 is built on the Symbian operating system developed by a consortium of wireless handset makers. A wave of Symbian smart phones is planned for Europe and Asia, and some will reach the U.S. on the AT&T, Cingular, and T-Mobile networks. Most will be less PDA-like than the P800, and will focus on entertainment and multimedia messaging. Microsoft (MSFT ) has developed a rival smart phone but has faced major challenges in getting it to market.
Handset makers and carriers still don't know just what consumers want in an enhanced phone beyond voice and text messaging. So we can expect to see lots of wide-ranging experiments--and we'll have plenty of choices.
By
Before it's here, it's on the Bloomberg Terminal.
LEARN MORE