Visionary Looks
There are reading glasses to match every outfit
Is there a clearer sign of the times? Reading glasses are hot. This necessity for legions of presbyopic baby boomers has morphed into a fashion accessory, available in so many styles, materials, and colors, you may want to own several pairs.
Brooklyn (N.Y.)-based Scojo Vision sells 34 models for men and women at prices ranging from $35 to $70. You can wear mango-colored Mojos to accent your basic black, or Clark Kents--when you want that retro look.
Gels, in T90 memory plastic, come in 15 colors and two sun versions. Courtland Alley has an etched frame. Foldable Popeyes have spring hinges and a tiny pop-open case.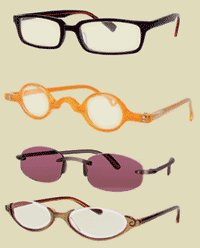 Scojo's glasses are available in many color choices and up to six reading strengths from +1.00 (weak) to +3.00 (strong). Scojo recommends you get an annual eye exam and ask your optometrist or opthalmologist which strength you need. Off-the-rack readers may not work for you if you have astigmatism or are especially nearsighted or farsighted.
You can buy these glasses at scojo.com or call 800 817-4318 for retailers. A bonus for choosing this brand: Part of your purchase funds Scojo's program to make low-cost reading glasses more available in developing countries.
By Christine Summerson
Before it's here, it's on the Bloomberg Terminal.
LEARN MORE