Why Things May Go Better with Coke
Coca-Cola's (KO ) latest television ad features R&B singer Mya growling: "Try to make it rrrre-al, compared to wha-haat!" It's a catchy phrase, and Mya is sure to catch eyes, too. But Coke's brand-new ad campaign isn't helping to draw investors' attention back to its stock. Shares in the world's No. 1 beverage company have skidded for most of the past five years, no matter that its board includes the world's No. 1 connoisseur of Cherry Coke, Warren Buffett. The stock, at below $42 lately, is nearing seven-year lows (chart).
Investors certainly weren't comforted when the company announced in December that it would quit offering guidance on earnings once 2002's were on the books. Last year's results are set to be made public on Feb. 12, and while they're expected to show a 10% gain in profits, the stock keeps trending down. As you might expect, some contrarians are beginning to see this once wildly overvalued stock as almost cheap.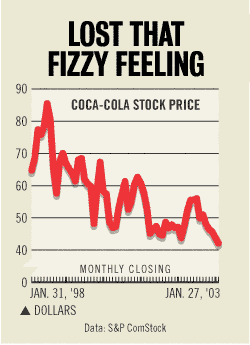 It's important to ask, as Mya might, cheap compared with what? Not compared with the market. Coke trades at 22 times this year's estimated profits, while the Standard & Poor's 500-stock index goes for 16 times. Yet to my mind, Coke's reliable earning power makes it no average stock, but one that deserves a definite premium. And a look at its balance sheet and operations suggests that investors may be in for some happy surprises.
I climb out on this limb for three reasons. First, Coke has rarely been so strong financially. Back in 1997, at the height of its prosperity and just months before its stock would peak, Coke enjoyed an operating margin of 27%. Net debt was just 18% of capital. Now, the operating margin is running over 30%, and debt is 16% of capital. Here's another way to look at Coke's financial heft: Through Sept. 30 last year, Coke had earnings enough to pay fixed charges 24 times over; as recently as 2000, that figure was under 9.
Next, if the company's own forecast for the coming five years is even close to correct, free cash flow is set to surge. Over the five years ended in 2002, operations generated a total of $19.6 billion in cash, $4.3 billion of which went to capital spending and $11 billion to dividends and share repurchases. In the coming five years, Coke expects at least $31 billion in cash flow, including $26 billion after capital spending. Most of that would be available for dividends and stock buybacks. Coke repurchased shares worth $750 million in 2002. Gary Fayard, Coke's chief financial officer, told me the company plans this year to double that amount and spend $1.5 billion on buybacks. Fewer shares outstanding mean more earnings per share.
Finally, there's a wild card: the dollar. Because fully 76% of Coke's operating income flows from abroad, changes in the dollar's value vs. foreign currencies hold a big sway over the company's results. Since 1996, the dollar kept strengthening against a basket of currencies important to Coke. The company's current five-year forecast envisions a steady dollar, but that alone is a major change. "If currencies would just be neutral, I'd be happy," Fayard said. "Just don't put huge drags on my earnings every year." And what if the dollar were to keep weakening? "We'd have more money than we'd know what to do with," Fayard said.
Naturally, managements are always optimistic, often overly. Coke sees annual average earnings growth through 2007 of 11% to 12%. Let's trim that back and instead assume that growth in free cash flow averages 10% a year. At current multiples, this math suggests a $66 stock in four or five years. A winning investment? Compared with the grand slam slugged by Buffett when his Berkshire Hathaway (BRK.A ) picked up its first big Coke stake back in 1988 at a split-adjusted $5.23 a share? No. Compared with the five-year Treasury note's current yield of 3.0%? Really.
Before it's here, it's on the Bloomberg Terminal.
LEARN MORE