Sleuthing Stocks on the I-Way
A few clicks can yield surprises about companies and brokers
Shrewd professional investors have always tried to get an edge by a variety of dogged research methods. Short-sellers have hired private detectives to scope out potential scams, and some fund managers employ doctors to evaluate the claims of pharmaceutical companies. Others have systematically surveyed consumer products and quizzed customers. The pros can hire people to do that work, but what about the rest of us? Well, the Internet is finally leveling the research playing field. You can now engage in first-class sleuthing without leaving the warm glow of your computer monitor. It's easy, it's free, and it can even be fun.
Even the humblest investor can adroitly scope out potential investments, as well as the pedigrees of brokers, brokerage firms, and investment newsletters. Indeed, more and more people have been using the Internet to aid regulators in their pursuit of investment scam artists (BW--Dec. 16). Using resources that have only recently become available online, amateur investigators can perform the kind of research that formerly required expensive databases and directories and time-consuming visits to public records offices. "You can give me a name, and I can come back with all kinds of information in five minutes," says Floyd Schneider, a New Jersey mortgage broker and amateur Internet sleuth. "There are things on the Internet that people don't even realize are on there."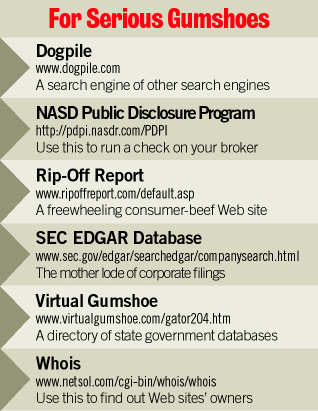 VANISHED PAGES
The place to begin an Internet investigation is with one or more of the popular search engines. The most comprehensive is Google, which has a valuable "cache" feature that allows you to get access to a Web page even if it has vanished from the Web. A less well-known site, Northern Light, is better for locating news articles and press releases. Another search engine popular with investigators, Dogpile, simultaneously explores several search engines. (Unless otherwise noted, the sites in this article are free of charge, and can be called up by just adding "www." before and ".com" after their names.)
The search engines, when used with other Internet tools, can lead to surprising discoveries. Take the findings of one investor, who requested anonymity. He began with a Google search on a small over-the-counter stock. Among the numerous hits it yielded was a Web site that displayed press releases--including one issued by a small Florida brokerage that was initiating research coverage of the company.
The location of the brokerage was a lucky break. Florida is one of a growing number of states whose corporate records databases--once formerly available only through costly data-retrieval services--are now online (sunbiz.org/corpweb/inquiry/cormenu.html). By putting the name of the brokerage in the Florida site, the sleuth obtained the names of two corporate officers. He placed each name in Google--which can search names and phrases if you put the words within quotation marks--and found a National Association of Securities Dealers document with a startling finding. The NASD had fined and suspended one of the men for his work as a trader for a notorious Mob-run brokerage. In bygone years, turning up such a serious red flag would have taken a professional investigator days of searching.
As this example demonstrates, the Internet is an excellent place to conduct background research of brokerage firms, brokers, and investment newsletters. The sites of the NASD and Securities & Exchange Commission both provide public access to internal search engines that allow probes of past disciplinary actions. The NASD also allows you to search the records of brokers and their firms. It will, upon request, e-mail broker disciplinary records to investors.
UNFILTERED INFORMATION
The SEC is also the repository of the agency's EDGAR database of corporate filings, essential for any investor-investigator. But more obscure sites also can provide fascinating data, particularly for investors in the most hazardous end of the market--stocks in companies that are so tiny that they only trade on the OTC Bulletin Board. By going to the OTC Web site (otcbb.com/dynamic/tradeact.htm), you can obtain records identifying the dealers making markets in OTC stocks, together with the volume recorded every month in each stock, broken down by market-maker. If the trading is dominated by just one or two market-makers, and those firms have disciplinary histories, this could be a sign the stock is a subject of market manipulation.
Another source of raw--in every sense of the word--information is investor message boards. Silicon Investor and the Yahoo! finance boards (messages.yahoo.com/yahoo/Business_Finance/Investments/index.html) are among the most heavily trafficked of such sites. These can provide a good deal of useful information, and even a way of communicating with corporate officers. But keep in mind that the boards are, on occasion, exploited by pump-and-dump scam artists.
Sure, you can pay big bucks, or nothing at all, for investment newsletters, most of which are on the Net. But check them out first. Start with the Wayback Machine (archive.org), which allows you to travel in cybertime and examine old newsletter sites (or any Web site). By perusing past online "issues" and examining the subsequent performance of recommended stocks, you can swiftly determine if a newsletter is a good source of information or if it's little more than a stock-hyping mechanism. Some Internet sleuths take their investigation one step further by conducting searches on the people owning the sites. They get that info by putting the Web addresses into the Whois database. That reveals the registered owner of the site.
So let's say all this sleuthing reveals that a company's SEC filings are unremarkable and that its stock is neither manipulated nor associated with a shady brokerage house. If the company deals in consumer products or services, go straight to the sites that track consumer complaints. A solid source is the Better Business Bureau (BBB), bbb.org.
You can also check the cacophonous consumer sounding board, the Rip-Off Report. This is a kind of gloves-off, no holds-barred version of the BBB. Despite its tabloid-style format, the Rip-Off Report is tracked by short-sellers and investigators who are researching troubled companies. Always be sure to keep in mind that the Rip-Off Report, like the investor message boards, is unfiltered user-supplied information. But that's O.K. This is the Internet, after all--a repository of gold and garbage. A lot like Wall Street.
By Gary Weiss
Before it's here, it's on the Bloomberg Terminal.
LEARN MORE