After last year's painful Enron hangover, electric and gas stocks are reviving. Things were already brightening by yearend, thanks to improved cash flow and a return to prudent power plant investment. Then President Bush helped out by revising the Clean Air Act and pushing Congress to cut taxes on dividends.
Reflecting the renewed optimism, the Dow Jones Electric Utilities Index has risen 4% since late October, and the Gas Utilities Index is up 4%, even though the Dow Jones industrial average has fallen 5%. Utilities are among the biggest dividend payers, with average yields of 4.5%. Without taxes, that's like earning 6.2% for those in the top bracket, according to a Jan. 7 Merrill Lynch analysis. That would be a "significant" gain, given difficult stock market conditions, Merrill says.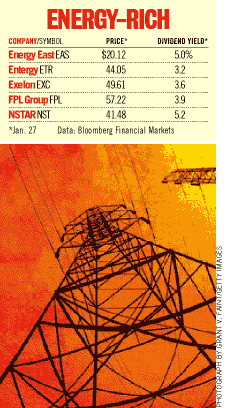 So which companies deserve a look? Three that stand to benefit more than others from the President's plan have above-average earnings growth, a healthy balance sheet, and room to raise dividends. Topping the list is FPL Group, owner of Florida Power & Light. FPL's profitability is benefiting from its recent investment in the Seabrook Nuclear Generating Station in New Hampshire, where power prices are rising in response to cold weather. What's more, FPL has very little oil in its fuel mix. That insulates the company from worries about war with Iraq, says Mark Luftig, a co-manager of the Strong Dividend Income Fund, 8.5% of which is in electric utilities. Portfolio managers favor New Orleans' Entergy (ETR ), because its trading venture, Entergy-Koch, has enjoyed strong operating performance and should gain from rising natural-gas prices. Another favorite: Chicago's Exelon (EXC ), which sells power from wind and nuclear, a high-margin energy source.
Barry Abramson of Gabelli Asset Management sees value in regulated utilities whose Enron-battered stocks are still well off their highs. Companies in this category, which aren't vulnerable to vacillating oil prices, include Boston's NSTAR (NST ), Energy East (EAS ) in Albany, N.Y., and Pittsburgh's DQE (DQE ). Abramson finds them attractive because they have been selling off power plants to focus on energy delivery. "They're not trying to be growth stocks--that's how their brethren failed," he says.
Even if the President's dividend plan is scaled back, utilities remain a safe place for investors. "In this environment, where volatility is so high, having a consistent anchor to your total return is important," says Judith Saryan, vice-president of Eaton Vance Management. In other words, with geopolitical jitters rocking the rest of Wall Street, utilities provide welcome stability.
By Laura Cohn
Before it's here, it's on the Bloomberg Terminal.
LEARN MORE