Cutting the Cell Phone Cord
I don't know what I was dreaming of--James Bond, maybe, or Star Trek's Lieutenant Uhura--walking around with a nifty little wireless communicator stuck in my ear. I spent the past few weeks testing devices that let you do away with the headset cord between your ear and your cell phone. My conclusion: Dream on.
The new earpieces are among the first practical applications of Bluetooth, a much-anticipated radio technology we've been hearing about for several years. The promise is to connect wirelessly all manner of high-tech gadgets, from phones to PDAs and computers--even your car's sound system. Two that I tried are Bluetooth models from Jabra and Plantronics; the third uses an earlier radio technology and is sold only by RadioShack.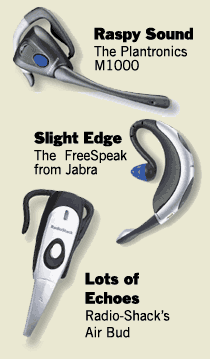 Even if you don't have a phone with Bluetooth technology built in, you can get an optional Bluetooth adapter that plugs into any phone's audio jack to complete the wireless link to the phone. The $100 Radio-Shack Air Bud can be used only with an adap-ter, and it's included.
It's tough to cut a dashing figure with one of these hanging on your ear. Because the earsets are battery-operated, they're bulky. And they're not cheap: I found the Jabra FreeSpeak on the Internet for $80 to $100, or $130 to $150 with the adapter. The Plantronics M1000 is $90 to $140, or $120 to $200 for the M1500, the version for non-Bluetooth phones.
The real price you pay is in sound quality. I found that none of these devices sounded as good as the earbud and microphone--with cord--that comes free with most phones. The Jabra had a slight edge in comfort and sound quality. Especially as I wandered away from the phone--30 feet is the limit--the Plantronics unit gave my voice a slightly scratchy, raspy quality. The RadioShack model produced lots of static and echoes.
Remember, you will still need to pick up the phone now and then--say, to dial a number. Which goes to show that you may never truly be untethered. For now, I'll just deal with untangling the cord once in a while.
By Larry Armstrong
Before it's here, it's on the Bloomberg Terminal.
LEARN MORE