Couture Chocolates: Now That's Sweet
Looking to melt a heart on Valentine's Day? Get help from artisanal chocolatiers, craftspeople who meld rich, natural flavors and higher cacao content--but no preservatives--in ingenious confections.
In New York, pastry chef Jacques Torres (mrchocolate.com) has made a splash with truffles in flavors such as Earl Grey Tea and Grand Marnier, while Garrison Confections (garrisonconfections.com) is warming hearts with Chestnut Armagnac and Winter Mango. San Francisco's Pete Slosberg, creator of Pete's Wicked Ale, has started Cocoa Pete's Chocolate Adventure (cocoapete.com). Check out his Hallowed Grounds, with dark chocolate, caramel, and Italian-roast coffee.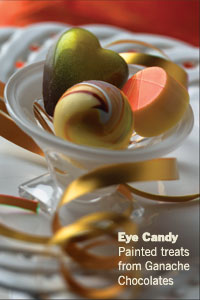 Chocolatier Editor Michael Schneider raves about Ganache Chocolates in Fort Myers, Fla. (ganachechocolate.com), for hand-painted creations bursting with banana or pineapple flavor.
Sure, they run $40 per pound and up. Still, "I never have any complaints about the prices," insists Torres. After all, who can put a price on delivering a sublime experience to your beloved?
By Gerry Khermouch
Before it's here, it's on the Bloomberg Terminal.
LEARN MORE