No Kidding--a New Market for Baby Food
Manufacturers are targeting Japan's elderly population
Strolling the aisles of his neighborhood supermarket, Shu Hamada gazes at a display of ready-to-eat treats from Japan's top baby-food makers: soft-boiled scabbard fish, bite-size shrimp meatballs, chop suey with tofu, and dozens of other varieties. But the 64-year-old Hamada is surprised to discover the food on display is made for seniors like him--not his grandchildren. "Looks tasty," he says with a shrug. "If it's soft and nutritious, why not?"
Good question, and one that Japan's baby-food producers have been asking themselves lately. Confronted with a steady drop in the number of newborns, baby-food makers were on the lookout for a new source of revenue when they stumbled on an intriguing trend: Many of their customers are more at home in a rocking chair than on a rocking horse. It seems the same characteristics that make baby food appealing to babies and their parents--soft, small morsels, low salt, easy preparation--also attract the silver-haired set. "We see processed foods for seniors as a growth area," says Sukefumi Ito, managing director at Tokyo-based Q.P. Corp., Japan's third-largest baby-food maker.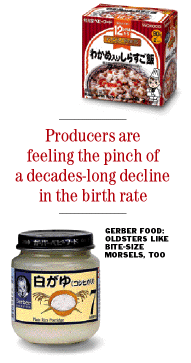 That has Q.P. and its rivals scrambling to woo senior citizens--albeit discreetly. Elderly Japanese, it seems, are no more interested in admitting their age than anyone else. So baby-food makers aiming to sell to seniors make little mention of their target demographic on the packaging. Wakodo Co. sells its elder food as "Fun Meals," while Q.P. labels its pouches as "Food for Ages 0-100." "Nobody wants to buy food for geezers," says Satoshi Inagaki of the Japan Babyfood Assn., an industry trade group.
Japan's baby-food makers could use a boost. True, sales nearly doubled through the 1990s as more women joined the workforce and parents began to accept that it was O.K. to feed children something other than homemade fare. But these days, manufacturers are finally feeling the pinch of a decades-long decline in the birth rate: From a peak of $252 million in 1999, baby-food sales fell to $235 million in 2001.
Yet while Japan has ever-fewer infants and toddlers crying out for seaweed-flavored noodles or sukiyaki-style beef with rice gruel, it's facing a glut of consumers at the other end of the life cycle. Already, one out of every five Japanese is age 65 or older; by 2014, it'll be one out of four.
That market trend is hard to ignore. And it's something many kid-dependent Japanese companies are starting to exploit. Game maker Namco Ltd. has begun modifying video-game consoles to make them easier to use--by adding thicker knobs--in collaboration with a wholesaler of nursing-home products. Similarly, karaoke equipment maker Daiichikosho Co. has rolled out its DK ElderSystem, a sing-along video exercise machine for active oldsters. Even carmakers such as Toyota Motor Corp. are getting into the act by selling modified hatchbacks and minivans with wheelchair ramps or special seats for the elderly.
Today, baby-food sales to older consumers stand at less than $10 million a year. But that figure is expected to grow significantly in coming years, according to the Babyfood Assn. That means senior foods could be the fountain of youth for a business that might otherwise face an uncertain future.
By Chester Dawson in Tokyo
Before it's here, it's on the Bloomberg Terminal.
LEARN MORE