A Renaissance in Sicilian Wine
World-class results with local grapes
Sicily's warm, dry climate, sloping hillsides, and rocky soil make it ideal for growing grapes--on par with California's Napa Valley. But while Napa vineyards have become known for producing fine, world-class wines, Sicily's 4,000-year-old tradition of bulk winemaking has caused oenophiles to turn up their noses. Until now.
A new generation of Sicilian winemakers from such family-owned estates as Donnafugata, Planeta, Spadafora, Abbazia Santa Anastasia, and Fazio is winning worldwide acclaim for excellent mid-priced and premium wines. Their pleasing fruity character resembles that of California and Australian rivals, but interesting blends with local grapes put Sicilian wines in a class of their own. That has fueled a sense of excitement and discovery among wine critics. "Sicilian wines are leading the global revolution in the perception of Italian wines," says Rich Cartiere, publisher of Wine Market Report, based in Calistoga, Calif. "They are the hot new wines for connoisseurs."
The transformation has come about thanks to changes in viticulture techniques and winemaking expertise. While whites have led the way, reds are now racing up the quality curve. Until recently, Sicilian reds were overly heavy and alcohol-laden, with a content as high as 18%. But a new breed is winning accolades in tastings around the world. Most vineyards are proving themselves with classic varietals such as cabernet and merlot, as well as blends with local grapes such as the nero d'Avola, to produce full round reds that age as beautifully as a Bordeaux Grand Cru. Donnafugata's Tancredi (1998) for $25, a smooth blend of nero d'Avola and cabernet sauvignon with a slight aroma of blueberry, took high honors at last year's Vinalies Internationales competition in Paris.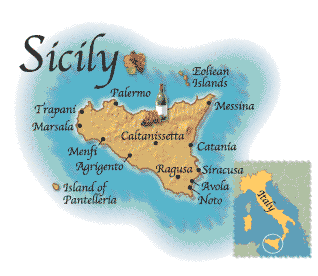 To set themselves apart from the New World producers flooding markets each year, Sicilian winemakers are keen to showcase their local grapes. "Five years ago, no one outside Italy knew nero d'Avola," says Alessio Planeta, one of three cousins who transformed the Planeta family fruit orchards into one of Sicily's fastest-growing wineries. Nero d'Avola's rich, full ruby-red wines with a typical alcohol content of 14% are closest in character to syrah. Planeta's Santa Cecilia ($32) is made from nero d'Avola grapes from two regions of Sicily, creating a complex scent of black fruit, with clove, carob, and vanilla accents.
Another pure nero d'Avola is Duca di Salaparuta's Duca Enrico ($65), which has aromas of red currant and plums. Far from the syrupy nero d'Avola wines of past centuries, Duca Enrico's is elegant, with soft tannins that age gracefully for 10 to 15 years. Fazio's Torre dei Venti Nero d'Avola, made from grapes grown on the slopes of Mt. Erice in western Sicily, has notes of blueberries and raspberries.
Sicily's local white wines are based on grapes such as catarratto, inzoli, grillo, and damaschino. These varieties can produce wonderfully clean and fruity wines ideal for imbibing in hot climates. But until recently, high-volume planting, unrefined winemaking techniques, and the blistering heat during harvest undercut their potential. Vintners have addressed those problems by pruning up to one-third of the grapes to concentrate flavor. They began harvesting at night and transferring grapes to temperature-controlled steel vats to prevent the premature fermentation that erased the characteristic aromas.
Sicily's chardonnays now echo the elegance of good Burgundies. The $34 Planeta Chardonnay (2000) ranked 19 in the Wine Spectator's 2002 list of the top 100 wines. Spadafora's chardonnay will soon grace the wine list of French chef Alain Ducasse's tony restaurant at the Essex House in New York (where it will sell for roughly $60 a bottle). Tasca d'Almerita's Baccante (2000) for $30 is another delight, aged in French oak barrels with aromas of honey, coffee, and nuts.
Given its ideal climate and excellent raw materials, Sicily has long been an underachiever among wine-growing regions. But today, the Mediterranean's largest island is finally giving Old and New World rivals a spirited challenge.
By Gail Edmondson
Before it's here, it's on the Bloomberg Terminal.
LEARN MORE